Halloween 2013: How Candy Corn is Made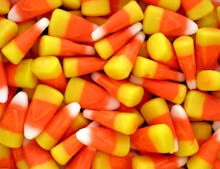 We're just a few days away from Halloween, and you know what that means: pumpkins are being carved, spooky ornaments are being hung up, and superhero costumes are flying out of stores.
But perhaps the most famous tradition is candy corn: the triangular shaped, autumnal colored, sugary-sweet chews that have become a Halloween staple. The yellow, orange, and white treat is an icon among the holiday candies and has a legacy that goes back more than a century.
According to BHG.com, George Renninger, a candymaker at the Wunderlee Candy Company in Philadelphia, invented the revolutionary tri-color candy in the 1880s. The Goelitz Confectionery Company brought it to the masses at the turn of the 20th century. The company, now called Jelly Belly Candy Co., has the longest history in the industry of making candy corn.
Making candy corn in the early 1900s wasn't the year-round activity that it is today. Large kettles were used to cook the basic ingredients of candy corn — sugar, corn syrup, and water— into a slurry. They would then whip marshmallows into the mix for a soft bite and fondant for smooth texture. When the candy reached right consistency, it would be poured into hand-held buckets.
Next, men would walk backwards while pouring the steaming candy into trays of cornstarch imprinted with kernel-shaped molds. They made three passes: one for each white, orange, and yellow color. This was a strenuous job, especially before the days of air conditioning and electric fans.
Today, the method of making candy corn has changed as machines do most of the work, but it still is a product of the original recipe. The National Confectioners Association estimates that 35 million pounds, or just over 9 billion pieces, of candy corn are sold annually.
Despite its popularity, however, candy corn isn't exactly the first choice candy among customers. According to a poll done by the Huffington Post, candy corn is the "most hated Halloween treat" and the "most polarizing confection" out there. So how come there's so much of it? Stand-up comedian Lewis Black came up with his own theory:
Or maybe people keep buying it because it's one of the healthier treats of the season. Candy corn contains roughly 28 grams of sugar and only 140 calories per heaping handful ... and it's fat free!
But no matter how you feel about candy corn, there's no doubting its enormous impact on the candy industry and on Halloween itself. In honor of their Goelitz roots, Jelly Belly has since developed a candy corn-flavored jelly bean. And you can bet that once it's time to go trick-or-treating, some lucky (or perhaps unlucky, depending on how you feel about it) boy or girl is going to knock on a door and receive a handful of those triangular yellow, orange, and white chews.