This Newly Uncovered 36-Year-Old 'Star Wars' Blooper Reel is Just Amazing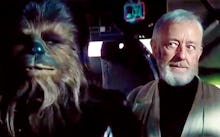 You've seen the blooper reels of everything from Parks and Recreation to Anchorman, but you've never seen the goofs from arguably the best sci-fi movie of all time. If you thought storm troopers were clumsy before, just wait. I think Bambi had an easier time walking on ice than these guys did getting around in their armor. Chewbacca is unwavering in his inspiring performance, as always, but Han Solo just can't seem to keep it together. The only one who seems really upset about mistakes is Luke, but we all know how stressful daddy issues can be. Such is the price of being a messiah.
All jokes aside, the blooper reel is a great look inside the work behind a masterpiece and humanizes our childhood (and adult) heroes. Plus, it's great to see how much effort went into special effects before computers entered the game. This clip came from an enhanced digital re-release of The Making of Star Wars. The book details how George Lucas was inspired to create an incredible combination of different genres that was light years ahead of its time. The digital book is pretty reasonably priced for even the most casual Star Wars fan and is a must for the hardcore.