'Love and Hip-Hop: New York': Mona Scott-Young is Empowered, Her Show is Not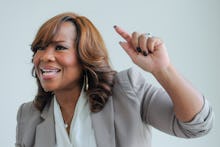 Love and Hip-Hop: New York season four premiered on Monday and, as usual, it was replete with the staples of reality television. The show exposes the cutthroat nature of the hip-hop industry as told by an army of self-proclaimed "bad bitches" and their pimps. While it may be damaging to the collective black female identity, I can't help but recognize how it complicates the murky dynamics of black feminism by highlighting the career trajectory of its creator, Mona Scott-Young.
I've only watched the show a handful of times, but my social media feeds are always aflame when it's on. A dedicated, young, minority audience tweet every event, and "urban" media quickly recaps the dastardly details. Personally, I can't relate to L&HH, as I'm easily put off by women (especially minority women) who humiliate themselves. I don't see characters in a sordid urban soap opera; I see mothers and daughters with no limits, restraint, or self-awareness.
My friends think I take it a bit too seriously, and refrain from epic eye-rolling when I get on my soapbox.
However annoying my insight might be, the show undeniably portrays black and Hispanic women negatively. They regularly fight over the silliest things and are loud, obnoxious, and "ghetto fabulous," all while hypersexualizing themselves for rapacious male attention. The show reinforces negative stereotypes of women of color in the most demoralizing way; a tragic affront to the ideals of black feminism.
Still, there's another, more positive dimension. Mona Scott-Young, the show's creator and CEO of the multimillion dollar enterprise Monami Entertainment, exemplifies empowerment. One of the few successful black female entrepreneurs, Scott-Young is a respected veteran in the corporate hip-hop industry. She helped fuel the success of Missy Elliot and others but then left her high-powered career to embark on the Love and Hip-Hop journey, and her risk paid off.
Scott-Young told Houston Style that her show allows specific women of color to tell their unique stories to a wide audience. She also says that her show serves to launch careers for aspiring entertainers. All cast members have musical backgrounds, and some even have talent. Her show has successfully reignited K. Michelle's stagnant career — her album, Rebellious Soul is highly regarded, and her loyal fan base purchased close to 100,000 copies. 
Scott-Young financially supports black-owned businesses, and uses her star power and corporate prowess to empower black women. She is a vanguard for black women, although her show is not.
It is an uncomfortable irony that highlights the choices we must make to achieve success. Scott Young is working in an unmovable corporate structure, known for its exploitation of people of color.
Sad, but true. At least she's willing to navigate the paradox. Maybe, somehow, she'll end up blazing a new way.