Editor's Picks: 3 Songs We Can't Stop Listening To This Week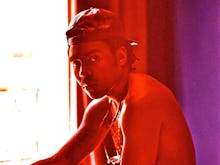 Much like our readers, PolicyMic's Arts & Entertainment editors have pretty diverse tastes in music. Because we hope our section can be a place you can turn to for cultural recommendations from your peers, we're sharing the songs that we've had on repeat in our office (well, in our headphones in our office) each week.
Check out what we can't stop listening to, and then let us know in the comments what song is making your week!
1. "Sutphin Boulevard" by Blood Orange
An oldie (in internet time) but a goodie from Blood Orange, a.k.a. British singer/songwriter/producer Devonté Hynes. I'm not quite sure how to categorize the trance-like groove of "Sutphin Boulevard," but it's one of those songs that just seems made for late night strolls around NYC — a feeling reflected by its gritty video. (This video also features lots of drag queens, and Hynes' has spoken about his fascination with transgender icons like Octavia St. Laurent.)
—Julianne Ross, Arts & Entertainment Deputy Editor
2. "Still Into You" by Paramore
My song this week is pretty embarrassing, but Paramore's "Still Into You" has been stuck in my head for days. It's the perfect pop song and makes me feel the way I felt about love when I was 16.
—Elena Sheppard, Arts & Entertainment Head Editor
3. "No Seas Antipatica" by Juana Molina
When Juana Molina released Wed 21 last week, I had no idea who she was. I found her famous 2006 album, Son, and have been listening to it consistently since. The record is haunting, and "No Seas Antipatica" (I have no idea what that means) is one of its best tracks. The Argentinian singer layers her voice over an intricate guitar figure and the sound of fingers drumming against the guitar's body. The end of the song devolves into strange guttural noises (kind of like a chorus of cats) and out-of-rhythm guitar before falling briefly into a swaying waltz and ending. It's a really strange, gripping song.
—Ben Naddaff-Hafrey, Arts & Entertainment Publishing Editor