'Game Of Bones': 7 Other TV Porn Parodies Which Should Happen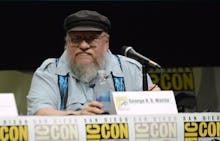 Well, this was inevitable. HBO's juggernaut series Game of Thrones has finally begun to catch up to its literary source material in the game of spawning parody erotica. Though the show itself sometimes appears to be its own porn parody, adult site Wood Rocket has released Game of Bones (don't click that) to wide — that's … applause, right?
Bravo to the people who finally dared to make something popular into a porno. Move over, Malala — this is what God's work looks like. Now let's bring life to these pitches.
1. The Walking Head
"In an apocalyptic hellscape, a band of incestuous Southerners continually fails to evade roaming hoardes of undead coeds who sustain on eating a specific part of the body."
2. Many Men
"The first female ad executive to break the glass ceiling of 1960s Madison Avenue encounters well-dressed coworkers who prefer daytime cocktails to working … with sexy results."
3. Buns of Anal-chy
"A tight-knit motorcycle gang led by the young, conflicted Jax Off becomes embroiled in a territorial dispute with a rival gang, leading to a massive orgy in California's High Desert."
4. The Tuholes
"King Henry VIII, growing tired of his continual search for a child-bearing wife, eventually gives a chance to a buxom slave girl who claims she can become pregnant via two separate methods."
5. Breaking Brad
"Muscular high school chemistry teacher Brad Black attempts to secure his family's finances by becoming a gigolo serving Albuquerque's most physically demanding clientele."
6. Boneland
"CIA officer Carrie Gettinsome has a debilitating disorder that requires her to be on two 'poles' at all times. Luckily, former prisoner of war and Dickonthis Body learned under the intense tutelage of terrorist Aboob Jizzhere how to give her what she needs."
7. The Real Housewives Of New Jersey
"Shit gets desperate."