National Cat Day: Uber App Lets You Rent Kittens For $20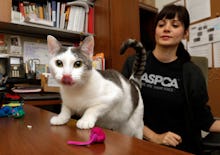 To honor National Cat Day today, premiere transportation app Uber partnered with the feline meme factory Cheezburger to deliver furry cuteness directly to your door. Yep. That's right, today in New York, San Francisco, and Seattle Uber agreed to deliver adoptable kittens along with courteous, timely vehicular assistance. For $20 you can get 15 minutes of playtime with adorable high-end call kittens waiting for their Pretty Woman moment. The fees are donated to participating local shelters with the hope that the furballs find forever homes.
When registered Uber users open their apps today, you can see a new "Kitten!" service alongside the standard taxi requests and quote options. But the day is not all sunshine, rainbows, and cupcakes for the feline fanciers.
Just hours into the great kitten experiment, it's clear that Uber underestimated the demand for fluffy snuggles. As Business Insider just reported, the public has taken to this idea like a kitten to a saucer of milk, and there are currently no available kittens. The public outcry on Twitter is reaching a fever-pitch as Uber users yeowl for kitten playtime. Should Uber have involved more shelters? Does this presage a new wave in high-tech animal-adoption placement? Are the kittens tangled in balls of yarn, unable to reach their next destination? Only time will tell.