Iran's 500-Execution Spree Shatters the Myth Of Hassan Rouhani's Reform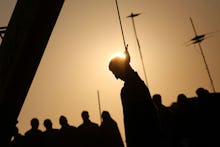 So far this year Iran has carried out more than 500 executions, leading the world in executions per capita. At least 250 of these executions have come after the election of the so-called moderate candidate Hassan Rouhani. Iran has even begun a campaign of execution against prisoners as a form of "retaliation" for acts committed by armed opposition groups. Despite the facade of reform and moderation espoused by Rouhani, the human rights situation in the country remains as bad as ever.
On October 26, Mohammad Marzieh, the chief prosecutor in the city of Zahedan in Iran's Sistan-Baluchestan province, told the semi-official Fars news agency that 16 individuals had been executed that morning in "retaliation" for a border attack the previous day. "This morning, in retaliation for the martyrdom of border guards at the town of Saravan, we hanged 16 members of these anti-Iran groups. The judiciary will absolutely not tolerate such actions by these groups."
The Baluchestan province is home to Iran's Baloch minority, who are predominantly Sunni and face systematic discrimination by the regime. 
"Executing prisoners for an attack they clearly were not involved in and boasting that it is in 'retaliation' for that attack puts into question the very principles of criminal law, the foremost of which being that nobody should be punished for a crime one has not committed," said Hassiba Hadj Sahraoui, Middle East and North Africa deputy director at Amnesty International. 
There is also growing concern that Iran will expedite the execution of several Kurdish political prisoners in a continuation of this policy of "retaliation." Amnesty International announced that Kurdish prisoners, Zaniar Moradi and Loghman Moradi, are at imminent risk of execution. The two men are currently incarcerated in Gohardasht prison, and were sentenced to public hanging on December 22, 2010, after a trial that reportedly lasted a mere 20 minutes.
Both men were convicted of "enmity against God", also known as moharebeh, a crime which carries a capitol sentence in Iran. They were also convicted of participating in armed activities with Komala, a Kurdish opposition group. In letters from prison both Loghman Moradi and Zaniar Moradi detailed the use of torture against them through harsh interrogation methods, and threats of rape used in order to obtain confessions.
The United Nations Special Rapporteur On Human Rights in Iran, Dr. Ahmed Shaheed, highlighted the case of the two men in the UN Report of the Special Rapporteur on the situation of human rights in the Islamic Republic of Iran:
According to reliable sources, both men vehemently denied the charges, but were forced to confess as a result of severe beatings, and threats of rape and arrest of family members. These sources also maintained that authorities informed Zaniar Moradi that he had legal counsel on the day of his trial, while Loghman Moradi was allowed to meet with his attorney two days prior to his trial after a year in detention. The Special Rapporteur later reviewed video produced by Press TV, which reported on the confessions of both men. Reliable sources reported that both men were forced to rehearse answers to questions they were asked during the televised interview.
The threat of execution comes after the recent execution of another Kurdish prisoner, Habibollah Golparipour, on October 25. Golparipour was sentenced to death in a five-minute trial in March 2010. 
"This surge in executions shows that behind words and promises, the Iranian authorities continue to rely on state-sponsored killing, sparking fears that Zaniar Moradi and Loghman Moradi, two Kurdish minority prisoners on death row, could be next," said Hassiba Hadj Sahraoui.
Kurds, who are one of Iran's largest minorities, continue to face discrimination in regards to their religious, economic and cultural rights. Minority Rights Group International highlighted the discrimination in its report entitled State of the World's Minorities and Indigenous Peoples 2012 – Iran:
In terms of land rights, there are high levels of property confiscation and governmental neglect in the Kurdish region of north-west Iran – Iranian Kurdistan, Kermanshah and Ilam provinces. The Kurdish region has abundant water resources. Dams have been built by the government to facilitate water irrigation and for hydroelectric power generation, but Kurds are generally excluded from the benefits of this investment. 
Iran has also been accused of systematic discrimination against other ethnic and religious minorities, including Sunni Arabs in the Ahwaz region. Hashem Shabani, Hadi Rashedi, Mokhtar Alboshokeh, Jaber Alboshokeh, and Mohammad Ali Amoori are five Iranian Arab's who remain under imminent threat of execution. Amnesty International has highlighted the case of the five men, including the use of forced confessions which they later retracted.
A familiar pattern runs through all of these cases: discrimination, a lack of due process, forced confessions, and torture, culminating in executions. 
Unfortunately none of these bleak realities of Iran's idea of human rights have not been included in the extensive coverage the West has given Iran's new president. Nor have they been mentioned in his speeches or the interviews carried out by the international media.
To be sure, Iran does lose face in the international community when it commits such heinous crimes against its own population, yet the continuation of these policies is indicative of the regime's understanding that its greatest threat is not abroad but at home. The theocracy in Iran remains in power purely through the use of terror and repression, and more than anything it fears a repeat of 2009 uprising by a increasingly disillusioned populace. 
For those striving for real and meaningful change in Iran, the hype surrounding the Rouhani presidency has been both disheartening and frustrating, particularly when so little has changed on the ground in Iran. Rouhani appears to be following the path of former president Khatami in using the rhetoric of change to prolong the life of a dying regime.
The people of Iran deserve better than this, and the world needs to know what is happening there. The true character of this regime can be witnessed in its treatment of dissidents and political prisoners, not in the promises made by Rouhani.