This Badass Portrait Of the 4 Female Supreme Court Justices Was Just Unveiled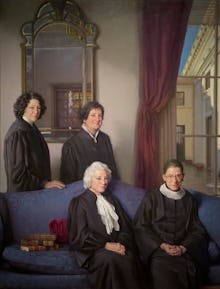 This is pretty awesome. Politico reports:
A portrait of the four female justices who have served on the United States Supreme Court was unveiled at the Smithsonian's National Portrait Gallery on Monday. Justices Sandra Day O'Connor (1981-2006), Sonia Sotomayor (2009-present), Ruth Bader Ginsburg (1993-present), and Elena Kagan (2010-present) are depicted in the oil-on-canvas portrait by artist Nelson Shanks wearing the traditional Supreme Court robes. 
O'Connor was the first woman appointed to the Supreme Court. The four women have never served congruently. 
In April 2012 the three current sitting female Court justices shared a stage to honor O'Connor as she retired. As highlighted by ABC News, when asked by the moderator why it was important to have women on the court, O'Connor said, "Maybe you haven't noticed but I think about 51% or 52% of population is female. I think they notice when their public bodies are dominated by one sex. Women care about this and they should."
Boom.
Editor's Note: This story has been updated to remove language that was used without attribution to Politico and ABC News. We apologize to our readers for this violation of our basic editorial standards. Mic has put in place new mechanisms, including plagiarism detection software, to ensure that this does not happen in the future.