Speak French or Spanish? The NSA Has Its Eye Out For New Recruits!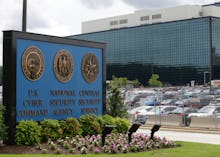 Are you looking for a way to learn more about your fellow Americans and their friends?
Are you looking for a way to use your language skills to help mend American relations with France and Spain in light of recent events? 
If you are interested in a career working at the National Security Agency, don't listen to everything you see in the news. Check out all the career resources at NSA.gov!
"The National Security Agency is the Nation's cryptologic organization. It coordinates, directs, and performs highly specialized activities to protect U.S. information systems and produce foreign intelligence information. A high technology organization, NSA is on the frontiers of communications and data processing. It is also one of the most important centers of foreign language analysis and research within the government."
What We Look For
The NSA believes "national security and diversity go hand-in-hand as essential partners in the interest of global peace." We are looking for individuals who embody our four guiding principles: 
1. We are "a national treasure that provides information superiority to the U.S. and the free world."
We must strive protect all citizens and national interests. In order to maintain our superiority, we must do everything possible to retain that status. We do our best to utilize all communications, both from friends and enemies, domestic and abroad. We treat every bit of information as important, and getting all relevant information is what keeps America the best in the world at the spy game. Another benefit is that intelligence is a recession-proof industry. We've increased our funding from the government by 52% since 2004. Become part of the legacy!
2. NSA has a very rich heritage and its contributions have shortened wars, saved lives, and prevented conflicts.
Many of the NSA's actions throughout history have shaped us into the agency we we are today. We've been growing since our days collecting information about civil rights leaders in the 1960s. A key to our success has been the surveillance expansion under President George W. Bush, and then accelerated by President Barack Obama. Our past two presidents have been great allies in the War on Terror. The powers we were granted have helped us move America towards the exits of Iraq and Afghanistan in a timely fashion. Help contribute to world peace and expanding liberty!
3. NSA is a responsible citizen. The workforce is proud, patriotic, knows how important NSA's mission is to the Nation, and understands the importance of abiding by U.S. law.
Understanding the mission is an important part of being a member of the NSA team. This means that when you testify to Congress, you must keep information from the American people while under oath. You do not compromise sensitive information, and random trips abroad are frowned upon. Our Director of National Intelligence James Clapper, recently went before Congress and admirably displayed such resolve by denying every allegation. Patriotism and pride mean that you stick to your story at all cost. Being consistent keeps all of us safe. Become a patriot and a responsible citizen!
4. NSA is an agency in transition. 
You can be a part of that transition! One of our current needs is PR, and candidates should be prepared to answer questions about how they value a positive public image. As the world grows and evolves, we want people who "know they are defending the Nation every day providing key intelligence to the U.S. government, ranging from the frontline warfighter to the president of the United States." The NSA has had success partnering with the private sector in recent years, and it has led us to much greater surveillance of Americans and the world. We look forward to taking the things that have made us so successful and working with you to ensure America can have the best spy team possible!
How To Get Started
All you need to do is click Apply Now below. We'll figure out the rest. Normal jobs care about resumes, but not us. We already know all about you.
Do not tell anyone you applied. Doing so may compromise the integrity of your application and may lead to action.