4 Hollywood Celebrities Who Hate the NSA As Much As You Do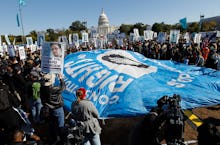 Last week, the Electronic Frontier Foundation released a star-studded promotional video ahead of the anti-NSA "Stop Watching Us protest" that took place in Washington D.C. on Oct. 26. Prominent figures such as Rep. John Coyners (D-Mich.), whistleblowers Daniel Ellsberg and Thomas Drake, and political talk show host Phil Donahue appeared in the video. The promotion also featured several celebrities; here are four of them.
1. Maggie Gyllenhaal
The 35-year-old actress has been politically active for at least a decade. In the run-up to the Iraq War, Gyllenhaal criticized the Bush administration's position, stating that the war would solely be about "oil and imperialism." In 2005, during an interview for her film The Great New Wonderful World, she said she believed that the United States government ought to shoulder some of the blame for the 9/11 attacks. Gyllenhaal  later defended her remarks via a statement issued by her publicist, which among other things, stated: "It is always useful as individuals or nations to ask how we may have knowingly or unknowingly contributed to this conflict." Earlier this year, Gyllenhaal appeared in a video supporting whistleblower Chelsea Manning in the lead-up to her sentencing.
2. Oliver Stone
Oliver Stone is no stranger to wading into political waters either, having directed Academy Award-winning films such as Platoon, Born on the Fourth of July, and JFK. Stone also created, wrote, and directed the documentary miniseries Oliver Stone's Untold History of the United States, which looked into the shadier side of American history. Stone is also an outspoken critic of American meddling in Latin America and the Middle East, and has strongly supported Wikileaks' efforts as well. In conjunction with the American Civil Liberties Union, Stone appeared in a short video criticizing the NSA's violation of the Fourth Amendment, an amendment which reminds us of "the cost of an unaccountable government."
3. John Cusack
Cusack has been one of the few stars in Hollywood to openly and consistently attack the Obama administration for the continuation of Bush's foreign policy and civil liberties violations. Last year Cusack conducted a phone interview with law professor Jonathan Turley, completely tearing the White House apart over the expansion of Bush's programs under the current administration. Cusack also writes occasionally for the Huffington Post, covering civil liberties. He is a founding member of the Freedom of the Press Foundation and sits on its board, alongside Daniel Ellsberg, Glenn Greenwald, and Lauren Poitras.
4. Wil Wheaton
As a political activist, Wheaton has strongly supported the efforts of NSA whistleblower Edward Snowden, taking to both his Twitter and Tumblr pages to support the fight against mass data collection. Wheaton is also a supporter of marriage equality and has advocated against the idea that video games are a driving force behind violent teenagers.