5 Old-School Dance Videos That Inspired Beyonce's Most Iconic Moves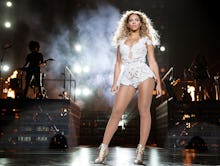 Halloween, Bonfire Night, Thanksgiving … Autumn's chill calls for bonfires, warm food, and alcohol. But more than all that, it calls for dancing. Lots and lots of dancing. And who is a greater influence for your shape-throwing than Queen Bee? 
Well, actually, quite a few of the great choreographers and dancers of the past. Beyoncé is not one to hide her influences, but maybe you just didn't realize how much inspiration she has taken from the likes of Fosse. Never fear: By the end of this list you'll have a whole new personal dance style that'll show people you can cut a rug better than Bey.
1. 'Rich Man's Frug'
If you haven't seen Sweet Charity, then we need to have words after this article. For now — for those of you who failed to do the assigned viewing for life — let's summarize: Sweet Charity is about a young woman who works as a dancer-for-hire in Times Square. Said young woman finally gets a shot at professional dancing when she's lured into a bar called the Pompeii Club by a film star. Thus ensues one of the best dance sequences in musical theater and, indeed, one of the best bits of cinematic choreography known to us mere mortals.
Of course, there are those mortals who are not so mere, and said demigods are the ones who can approach a perfect emulation of the undulating limbs of Suzanne 'Ponytail Girl' Charney — demigods like Beyoncé. In "Get Me Bodied," Beyoncé awkwardly shoulder rolls like a Fosse pro, mixing it up with the sort of nightclub swagger we have come to expect from the first lady of sass.
2. 'Rosas Danst Rosas'
In 2011, choreographer Anne Teresa de Keersmaeker caused a large controversy by claiming that Beyoncé copied her routine to the second section of "Rosas Danst Rosas" in the "Countdown" video. She has a point (it is copied, down to the design, in the last chorus), but the dance is so briefly featured in the video that it doesn't merit any greater mention than a comment on a list post. Like this one.
Keersmaeker's fantastic dance takes the modern mechanical lifestyle of work and juxtaposes it with the dynamic flows and contours of breathing. Beyoncé maybe makes the whole thing slightly more seductive than Keersmaeker was aiming for, but the entire video is a tribute to dance studios and the art of choreography: it just shows Beyoncé's knowledge of the form to have it featured there.
3. 'The Band Wagon'
As if Donna Summer's being sampled wasn't enough inspiration for dancing, "Naughty Girl" also harkens back to dance fest The Band Wagon, a film in which Fred Astaire and Cyd Charisse are competing stars in an avant-garde restaging of Faust. Yep, they did actually make that film. And Michael Jackson has referenced it many times himself (check out the "Smooth Criminal" dance video).
Frame for frame, there are shots lifted right from the video (although parts of Beyoncé's dance sequences with Usher also borrow from the neon sets of "Broadway Medley," the better-known Charisse dance number from Singin' in the Rain). Again, Beyoncé takes the lithe and willowy dancing of Hollywood cinema and gives it an added dollop of lust that not even the slits in her dress can provide. 
4. The Dances Of Mozambique
Mozambique dance trio Tofo Tofo are just one of the innumerable inspirations for the video that accompanies one of Beyoncé's most famous numbers, "Run the World (Girls)." The combination of Kwaito music and Pantsula dance in this trio's big Mozambican melting pot was one of the major inspirations for Beyoncé's dance routines in the video. They are, in fact, actually featured within the video (looking a bit like miners).
5. 'Mexican Breakfast'
Again by Fosse, and, although still in his characteristic awkward-man-shuffle, this is possibly the one bearing the greatest resemblance to a Beyoncé number. Specifically, it's the basis for "Single Ladies." Yet it is also the most ludicrous duo of videos: the marvellous Gwen Verdon (the original Roxie Hart in the first run of Chicago) dances in flares and luminous outfits — not unlike something you'll see people in this Halloween — and sort of jitters her way through some light bossa nova. Beyoncé, of course, turned it into one of the most famous dance routines of the 21st century. How she got there we'll never know (although her choreographer deserves a great deal of thanks). She's even admitted to the inspiration herself. Just in case the outfits blind you to the obvious.