Facebook (FB) Stock: What Its Third Quarter Earnings Mean For the Future Of Mobile Ads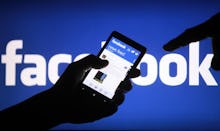 Wednesday, as Facebook prepares to release its third quarter earnings, Wall Street is buzzing with optimism. The social media giant is projected to post $1.9 billion in revenue, with its earnings per share rising 58% to $.19 and sales increasing 53%. The substantial improvement in the company's advertising strategy has driven increased earnings.
Last year, when Facebook began to integrate ads into news feeds, a debate ensued over whether this tactic would be successful or reduce activity on the site. The users delivered the answer. Substantially more people clicked on news feed ads than ads displayed on the right hand side of the page. Riding on the success of this launch, Facebook added similar news feed ads to its mobile site, modifying them to fit the entire width of the screen, increasing to the visual presence of the ad.
This system will become further validated if Facebook's third quarter report reflects the expectations of investors. If so, users can expect Facebook to focus on improving tailored news feed ads to individual product preferences, with exceptional attention toward the mobile platform. A successful third quarter will result in a more streamlined and appealing news feed experience for the user.
In order to ensure the successful improvement of news feed ads, Facebook has — and must continue to — addressed several faults in the system. Many customers have complained that the ads shown in their news feeds are irrelevant to their interests and. Sometimes, users even classify ads in their news feeds as spam.
In response, Facebook announced in September that it was altering the algorithms responsible for placing ads in the users' news feeds. "Our goal is to make sure we deliver the most relevant ads, which should mean the right people are seeing a specific ad campaign. This is ultimately better for marketers, because it means their messages are reaching the people most interested in what they have to offer," said a Facebook press release. If a user wants to hide ads for a certain type of product, Facebook will now show fewer of those ads to the user.
On Oct. 15, Facebook continued to improve its ad system, announcing that over the next months, businesses could begin to target customers who had previously downloaded their mobile apps or accessed their websites. These "interest-based" ads, similar to those on Google, enable a company to encourage a customer to continuously use their services or rediscover a product they had used in the past. The immense size and diversity of Facebook's user base gives companies any opportunity to reach a broad audience. By allowing companies to specifically target thousands of interested users, the effectiveness of the ads and the click rates on the ads could surge.
A key element in promoting these improved systems will be the mobile platform. In less than a year, mobile devices' share of website traffic has increased by over 50%. Facebook's revenues from mobile advertising increased 41% in the second quarter of 2013, compared to its second quarter earnings from 2012. Analysts suggest the third quarter report will show Facebook earned somewhere between $760 million and $840 million from mobile ads; some even predict the figure could be above $900 million.
Additionally, last week Instagram announced that it would begin introducing sponsored contentin its photo feeds. According to analyst Mark Mahaney, Instagram could generate $1.7 billion in revenue by 2015, 13% of Facebook's total revenue. As Facebook owns Instagram, this demonstrates a clear vision of the company's advertising strategy and highlights the vital role mobile platforms will play in producing revenue.
A good report card for Facebook will translate into benefits for investors, companies, and users. It would prove that Facebook has begun to improve a new and more effective advertising strategy (though it's still not perfect). Better-targeted ads will create more revenue for companies and a news feed more relevant for users.