An Open Letter to the Next Mayor of NYC From a Homeless New Yorker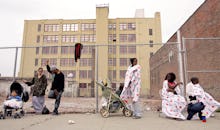 To the next mayor of NYC,
The mayoral race continues to grab headlines in New York City but I have yet to hear either of you, Bill de Blasio or Joe Lhota, outline a clear strategy for reducing homelessness and helping the currently homeless get back on our feet.  I say "our" because I am one of the 50,000 homeless people who sleep in the city's shelter system. Like many other low income New Yorkers, I need you to hear my voice, especially if you become the next mayor of NYC. I insist that our needs be heard by the one elected to represent us. This is my story.
I have been in the shelter system a little under three years. I had never been in the system before. I am from Augusta, Georgia and am a native son of this country. My ancestors built this country. I was raised by intellectuals in an upper middle class family in the South. Roughly three years ago, I got laid off from the Department of Records and Information Services, where I was working as a clerk and making a substantial salary. I lived in South Ozone Park in Queens and had been in my apartment for four or five years. I thought that because of my college degree and experience, it wouldn't be too difficult to find a new job.
I haven't been able to find a job for three years.
My savings ran out and I lost my apartment. I had no knowledge of the shelter system until someone advised me to call 311 (the NYC information hotline) and inquire about entering an emergency shelter. They encouraged me to go to a drop-in center called Main Chance at 33rd St. and Lexington Ave. For two weeks, I slept in a plastic chair every night while I went through the mandatory preliminary process before beginning case management. The conditions were horrible and I went to the hospital because of the health issues caused by staying at Main Chance.
Mayor Bloomberg has been worried about whether some residents are illegitimately in this situation. I don't think that there is any such thing. If you are in the system, you are there because circumstances put you there. Nobody in their right mind would want to go into the shelter system; it is an outpatient penitentiary. The shelter is a hospital of wounded and broken souls, in which people, at some point, inevitably lose hope.
Unless you have lived in this environment, felt the danger, and seen the chaos, you cannot understand the horrors of the shelter system. Shelters are packed. People from every walk of life seek out emergency shelter. I am here because I refuse to be on the streets. I have been in four different shelters over the course of the past three years. My life is on the line every single second. I see 30 to 45 fights every week. I see engagement with law enforcement five to 10 times per week. The lady in charge treats me like I am not even a human being.
For the first time in my life, I have to take prescription drugs in order to sleep. It is impossible to sleep in the shelter because of the constant arguments. Of course, sleep deprivation makes people angry and disgruntled and can turn anyone into a loose cannon. Another health issue in the shelters is the food. The food goes right through you and tears your system to shreds. Kids in the shelter system often get diarrhea. I had to give up milk under the doctor's recommendations and eventually became a vegan because of the food.
I used to say to myself, why me? And then, I had an epiphany, why not me?  I have met people in the shelter from every walk of life — from people recently released from jail, to people who have master's degrees but lost their jobs, to people suffering from mental illness. The city must provide the homeless population with real services to meet the needs of each individual. For some people that means treatment and rehabilitation, for others it means education and training to get current jobs, and for people like me, it means adequate housing and one more shot to be part of society again.
As it stands today, the NYC shelter system for single adults is an underworld that treats the homeless as subhuman. If you're elected to become the next mayor, you must take swift action to change a system that is systematically institutionalizing the people it is supposedly intended to serve.
Editor's note: Joseph is a client of the Urban Justice Center, which helped to facilitate this piece.