The Gronkowskis: Watch the Gronk Brothers Pitch Their Animated TV Show Idea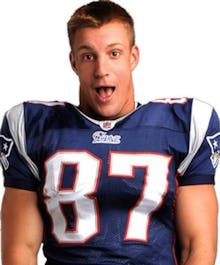 If you're a fan of the New England Patriots' Rob Gronkowski, Zubaz, both, or neither, then this is for you. Check out this epic video clip from Rob and his brothers for their future television show, The Gronks. Deadspin says the family is shopping this reel around Hollywood in the hopes of a network picking up their "lightly fictionalized" animated show.
Wait. Why do we need a fictionalized animated show? This three-minute clip has no discernible plot, direction, or purpose — and it is pure reality gold. 
With the intermix of invaluable interview, family photos, and video footage, it's like "The Book of Manning" after a ton of Four Lokos. I admittedly feel strange watching this clip multiple times, but I just can't look away.
One brother Gronkowski reminisces about when Rob emailed a teacher to suck his dick, which didn't sit well with the "teacher community." Another bro says Rob once (though there's no way it was just once) took a Viagra before a pool party to "impress the girls" with his semi-boner.
Gronk has already had plenty of television-worthy moments in his young career, of course. Before Aaron Hernandez shamed the Patriots organization with a double homicide, Gronk was saying in 2011, "I didn't intend anything to hurt the reputation of anyone on the New England Patriots or on behalf of Robert Kraft." The reason was this photo of him after sleeping with porn star Bibi Jones on the Pats' bye week:
He was even offered $3.75 million to shoot a porno with her a few months later. 
Then, after his team was devastated yet again by the New York Giants in Super Bowl XLVI, video surfaced of Gronk looking plastered and happily dancing the night away with LMFAO.
Needless to say, it rubbed many analysts and former players the wrong way.
According to Deadspin, Gronk's focus is on football at the moment, and that "the heavy lifting will come in the offseason, when the plan is to have the entire Gronk family walk in on pitch meetings and 'instantly sell it.'" The site is also reporting that one of the co-executive producers of Family Guy is apparently interested in co-writing the series.
Even as a Giants fan, there's absolutely no way I'm missing this show. But every time I get excited about it, I remember that I'm wrong to mentally extrapolate a season's worth of the Gronkowski family's antics from this amazing clip. Remember — it' an animated show.
But I have one question and one observation: First, if there is a reality show that follows the Kardashian sisters around while they yell on speakerphones in their luxury cars, why can't the Gronkowskis just have a test run of their own "reality" for a season?
The observation: This show would be an insane success if the producers simply followed a template of heavy dosages of Zubaz pants, drunken nostalgia, and party-bus dancing.
By the way, the brothers are ambassadors of Zubaz, and you can purchase an NFL licensed pair right now at Gronk Nation. Enjoy the show — and the pants.