Scandal Season 3: Olivia Pope's Job Would Be Soul-Crushing in Real Life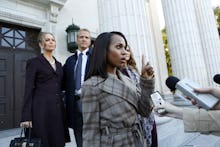 Every Thursday night, I happily indulge in ABC's hit political soap, Scandal. I am a #gladiator. I live-tweet, I yell at the TV, and I swoon over Olivia Pope's neo-prep wardrobe. I am so sucked into the glamorous world of Kerry Washington's character that I often think, while watching, "I just don't know how she does it" — to which the left side of my brain responds "this show is not real."
While Scandal is inspired by real-life Washington, DC "fixer," Judy Smith, (who also co-produces the series), the show has undoubtedly received the Hollywood treatment. It's pretty clear that working at Pope & Associates, the fictional crisis management firm commandeered by Olivia Pope, would actually be soul-crushing in real life.
First, the obvious: Kerry Washington as Olivia Pope is flawless. Too flawless. The same goes for her team (have you seen Abby's new hair this season?). For a group of people single-handedly saving the Capital from terrorist threats, I'd expect to see more sleep-deprived, hygienically-questionable associates.
Courtesy ABC.
Last week's episode saw Olivia and team helping a sexting Congressman escape a murder conviction in a pretty twisted case. The crisis was averted in a couple of weeks, with the Congressman and his (murderous) wife walking off into the sunset. In real life, it isn't quite so speedy. Smith once revealed that it took at least eight months for any animal rights group to commit to working with her client Michael Vick. Now imagine the long, drawn-out PR and legal nightmare that would actually befall Olivia's political clientele in real life — half of whom seem to be implicated in complicated murder plots. The crises that take a week to remedy on Scandal would actually consume months — if not years — of damage control, reputation management, litigation, and general banging your head against a wall.
Olivia frequently finds herself at the beck and call of late-night crisis calls (most of which are from President Fitz), but crisis management is not just a 24/7 job — it's an intercontinental job. In real life, Judy Smith is not only perpetually on call, but she flies out to meet her clients wherever they are in the world. Anyone who's traveled professionally knows the added stress of last minute trips and managing frantic clients on-site. On Scandal, Olivia is local and her drama is local. She doesn't fly to her clients, they fly to her.
And they seem to fly one at a time. Every crisis on Scandal politely waits for the previous one to resolve before popping up on Olivia's radar. In the real world, Pope & Associates would have to service multiple crises simultaneously. Even more exasperating, they'd have to deal with today's digital media environment, in which crisis management requires swift, coordinated action across traditional news outlets, social media, and blogs. So while Olivia and team are busy slut-shaming a dead girl per last week's episode, there's still a whole Twitterverse of opinionated people they should have to deal with.
Courtesy ABC.
Olivia handles the type of life-shattering, gut-wrenching cases that would wreak emotional and physical havoc on anyone. To show just how romanticized Olivia Pope's crisis manager role is, I've plugged in some missing directional cues into a draft script from Scandal's pilot episode, you know, for added realism:
If the show's creators wish to speak with me, I will be enjoying my job doing something other than Olivia Pope's job.