5 Reasons Cutting Food Stamps Will Hurt America's Children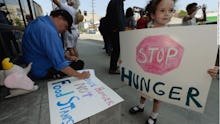 No child living in America should experience hunger, but the rank fact is that one in every five American children know the pangs of gnawing emptiness in their stomachs. Beginning November 1 47 million Americans including 16 million children who experience food scarcity will see their suffering increase. Food shortages are being compounded by cuts to the Supplemental Nutrition Assistance Program, SNAP, formerly called food stamps.  
SNAP was already vulnerable to losses this year as the $45.2 billion investments made as part of the 2009 American Recovery Act were set to expire October 31. The SNAP program was further weakened this summer when Congress passed a bill to reduce funding by $40 billion over the next 10 years. These cuts will take immediate effect. Nearly 2 million people who depend on food assistance will fall off the nutrition assistance program rosters, including 210,000 kids receiving school meals.
1. Hungry Kids Can't Work Well in School
Research published in the American Journal of Clinical Nutrition and in the Journal of American Academy of Child and Adolescent Psychiatry found that hungry children have lower math test scores, come to school late, or miss school entirely.
2. Needy Children Who Don't Get SNAP Get Sick
Children who struggle with food shortages are sick more often, recover more slowly and are more frequently hospitalized. They are also more likely to experience headaches, stomachaches, fatigue, ear infections, and colds. 
3. Food Cuts Have Long-Term Costs
Reduced spending on food assistance for America's children increases spending on health care and on the criminal justice system to the tune of $500 billion a year. 
4. Cuts in SNAP Will Increase Poverty
Since income for households receiving SNAP is already low — $19,350 a year for a family of three — money for food isn't always available. Reduced SNAP benefits will mean shelling out money for food, and this could mean not paying the rent, heating, or other bills. In households where robbing Peter to pay Paul and food shortages are common, many children whose families loose SNAP benefits could end up destitute or homeless.
5. Hungry Kids Have Behavioral Problems
Children and teens who do not regularly get enough nutritious food to eat have significantly higher levels of behavioral, emotional and academic problems. They are also more aggressive and anxious, and are more likely to be suspended from school and have difficulty getting along with other kids.