World Series Game 6 Ticket Price Hits Above $40K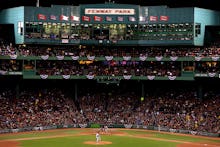 For Wednesday night's Game 6 of the 2013 World Series between the St. Louis Cardinals and the Boston Red Sox, the chance to witness history means historic ticket prices. If you're unaware — or you're one of those Sox fans who wears that green hat and doesn't watch any games until the ALCS — the SAWX have not clinched a World Series at FENWAY PAHK since 1918, almost 100 years ago.
Yankees fans can only reminisce about the years, chanting "1918!" to remind Boston fans of the last time they had been champions at all. But then the Sox came back from a 3-0 deficit to oust the Yankees and swept the Cardinals in the 2004 series. Then they swept the pitiful Colorado Rockies just three Octobers later in 2007. 
Now that the Sox are one win away from three titles in 10 years — close to a dynasty but no cigar — it is only fitting that they finally clinch in front of their wicked-awesome fans and drench their beards in champagne in their home clubhouse.  
But how much is too much to drop on a ticket to get you into the confines at Yawkey Way?
How is $12,652 for a club seat in the mezzanine? Or $11,002 for a seat next to Pesky's Pole? If five figures is too ridiculous, how would you feel about a bleacher seat — yes, a bleacher seat — for $9,999? Those are the prices as of 2:30 p.m. on Wednesday as listed on Stubhub. The lowest price of entry, by the way, is currently marked at a cool $769.80 for a standing-room-only view. 
According to TiqIQ (h/t ESPN), the average resale-market price was listed at $2,056 on Wednesday morning, and the average ticket price was $1,062, a 19.25% jump from Tuesday. The same reports details how "On Monday night, someone who wanted two of the best seats in the house paid $24,000 on StubHub for a pair in the first row in a dugout box between home plate and one of the on-deck circles," and that ticket prices for the game have now approached Super Bowl XLVII.
Here's one more figure: $42,079. That was the listed, and most expensive, price of a field box seat that had still been listed on Stubhub as of 7:25 a.m. Wednesday morning, according to Sports Illustrated's FanNation.
The wild aspect of these prices is that Game 6 is not a sudden death game. Should the series head for a Game 7 on Thursday, at which point it will undoubtedly mean clinching at Fenway or not, who knows how high these prices might actually reach? The most insane part, however, is that ticket prices actually fluctuate during a preceding game based upon the likeliest outcome at the time. 
Jim Holzman, who works for a Boston-based brokerage firm called Ace Ticket, explained the pattern to ESPN: "Holzman said fans began buying tickets in earnest Monday night after the Red Sox scored in the top of the first inning," and that "Prices were going up $50 an inning" during Game 5. In other words, be on the lookout for these record prices to skyrocket even further if the Cardinals can give Michael Wacha an early lead.
And if you're not walking, riding, or driving from the Boston area to the ballpark, good luck paying for airfare, a hotel, and beer.