This Embarrassing Quote Sums Up the Obamacare Hearing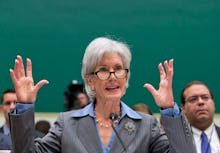 Kathleen Sebelius, Health and Human Services secretary, wrapped up her public testimony on Capitol Hill where she took responsibility for the failures of the Healthcare.gov website on Wednesday. During the House Energy and Commerce Committee hearing, Sebelius said, "I apologize. I am accountable to you. I am committed to earning your confidence back."
Republicans badgered and bullied Sebelius for technical problems that have plagued the rollout of the Affordable Care Act (ACA). Most notably, Sebelius was accidentally caught on a hot mic, muttering under her breath: "Don't do this to me." Check out the video.
The hearing was especially contentious as Republicans showered Sebelius with partisan remarks and Democrats floated easy questions designed to empower the embattled official.
In particular, Rep. Marsha Blackburn (R-Tenn.) came out swinging against Sebelius, and successfully got her to take blame for the "debacle" that is the Healthcare.gov website. 
But the tense mood was broken by some moments of levity. At one point, Rep. Ralph Hall (R-Texas) asked Sebelius if she grew up in Kansas because he thought he had seen her there "on a tricycle" once when he was in the third grade. Watch the awkward exchange below.