NASCAR is the Surprising New Face of Diversity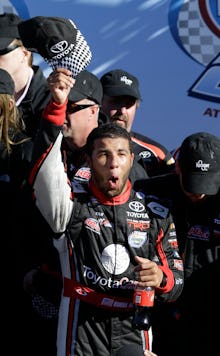 Darrell Wallace Jr., the first black driver to win a major NASCAR race in 50 years, may signal that the sport is finally developing into the new American pastime it so longs to be.
Diversity is not usually the word outsiders associate with NASCAR, but Wallace's truck series win is the latest victory for a sport trying to expand its image. Wendell Scott, who became the first black driver to win in NASCAR in 1963, was not recognized for his win until years later. 
NASCAR is a sport born from Southern bootleggers, but now uses tracks in states from Delaware to Michigan to New Hampshire. The Drive for Diversity program promotes minority drivers.
As NASCAR changes its image, people should consider changing their ideas about NASCAR.
The white, Southern image of the sport, where the use of a confederate flag has drawn controversy, has lost potential minority fans, as well as white suburbanites and Northerners. But my views changed when Michigan native Brad Keselowski won the Sprint Cup in 2012. Rochester Hills, where Keselowski is from, is about a 20 minute drive from me. It took his win for me to look at how race car driving has clearly extended beyond Southern borders.
Racial milestones in sports occur when the athlete performs at a level that transcend the prejudice of the fans. Yet, the more exciting and slower development is the true integration that occurs after that first barrier is broken. It is the difference in how fans accepted Hank Aaron compared to Jackie Robinson, or Joe Louis to Jack Johnson. Time might show that we're witnessing the same moment now between Wallace and Scott.
Either way, this is a win for sports in general, and race car driving in particular. NASCAR drivers might always turn left on the track, but this puts them on the right side of history.