Watch Aziz Ansari's Hilarious Appearance on 'Jimmy Fallon' Last Night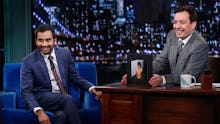 Now here's a way to get your Halloween started off right: Aziz Ansari's appearance on last night's Late Night With Jimmy Fallon was — surprise, surprise — downright hilarious. What, were you expecting anything less from the man who destroyed our faith in marriage?
Ansari showed off his Halloween costumes from years past — including a hilarious Thomas the Tank Engine outfit — and also got around to some bantering with Fallon about why ghosts behave the way they do in all ghost stories.
"These people died hundreds of years ago. They've never seen running water before. They're blown away." 
Aziz also talked about meeting his fans while he is out and about, and told a hilarious anecdote about a female fan in Los Angeles who accused him of being rude the last time they met. 
"So I said, 'Look, if you want to know what really happened, you went up to some other Indian dude and said 'You're funny in Observe & Report,' he's not me, so he rolled his eyes and walked away."
Ansari has been on an absolute roll as of late. He nailed his appearance at this summer's Comedy Central roast of James Franco by bringing socially relevant humor to a normally crass event, and his new Netflix special, Buried Alive, premieres Friday. That's not to mention hilarious turns in this summer's comedic smash, This Is The End, and NBC's Parks and Recreation. Normally wishing for something is reserved for birthdays and Christmas, but on this Halloween, we're all wishing for more Ansari.