Halloween Weather 2013: Forecast For Trick-or-Treating Tonight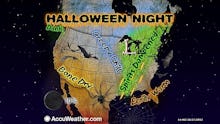 Oct. 31 is usually defined by the sight of costume-clad children traipsing from home to home soliciting sweets. Assuming the weather is willing to cooperate.
Kentucky and Tennessee are expected to see heavy storms and strong rain. This forecast has even prompted some towns in these states to cancel or postpone Halloween trick-or-treating. 
In the South, the weather has also stopped some festivities in their tracks. A large storm is heading northeast over Texas today. Flash floods have already struck in Austin, Texas, forcing folks from their homes. There was also flooding in Williamson, Hays, Comel, and Travis counties. Tornado warnings have been issued for the Ohio Valley, lower Mississippi Valley, and the Gulf Coast, as well as alerts for large gusts of wind.
Kids in New York City are in luck as this year's festivities will occur in weather between 62 and 68 degrees. However, there is a 70% chance of rain, which may be a problem. Those who are desperate to stay dry could try trick-or-treating inside an apartment building.Things don't look much better in Chicago. The chance of rain is 100% today and weather looks to be in the 40s tonight, with even more rain. Hopefully kids can incorporate an umbrella into their costumes.
Washington, D.C., seems to have pretty good trick-or-treating weather. Capitol residents can expect a day in the mid-70s followed by an evening in the high-60s with only a 20% chance of rain between 6 p.m. and 9 p.m.
Of course, Los Angeles has the best Halloween weather. The temperature ranges from 77 degrees in the day to 55 degrees at night, with no rain scheduled in the forecast.