Hawaii to Be the 15th State to Legalize Gay Marriage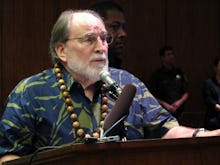 Hawaii is set to become the 15th state to legalize same-sex marriage, officially bringing the marriage equality movement full circle.
Hawaii's Democratic Governor Neil Abercrombie signed Hawaii's civil union law in 2011. On Monday, he called a special legislative session to vote on the legislation. The state Senate passed the measure 20-4. Three Democrats broke ranks to side with the single Republican senator. The bill is expected to pass in the House of Representatives, which hosts 44 Democrats and 7 Republicans. A committee will consider the bill on Thursday, but a chamber vote is not yet scheduled. The bill exempts religious leaders and religious institutions from having to perform same-sex marriages.
Abercrombie said, "I think Hawaii has always celebrated its sense of Aloha for one another. This is a question of equity."
In 1993, Hawaii's Supreme Court ruled that restricting marriage to heterosexual couples was discriminatory. That decision spurred a national backlash leading to several constitutional amendments banning same-sex marriage. In 1998, Hawaii passed such an amendment. The decision to reverse that choice symbolizes the changing national perception and recognition of marriage equality and gay rights.
The 14 states where same-sex couples can legally marry are California, Connecticut, Delaware, Iowa, Maine, Maryland, Massachusetts, Minnesota, New Hampshire, New Jersey, New York, Rhode Island, Vermont, Washington, and the District of Columbia.