Here's the Deleted Slavery Meme Minnesota Republicans Don't Want You to See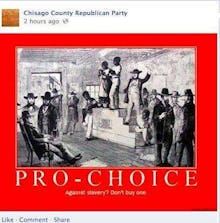 Minnesota's Chisago County Republican Party is now backpedaling fast over an image posted on their Facebook page this morning that offended women, African-Americans, the pro-choice movement, and those opposed to slavery.
The image has since been deleted, but was captured in screen-shots, including one by the Ed Schultz Show, which posted it on Facebook. The image depicts a slave auction with the caption "Pro-Choice: Against slavery? Don't buy one."
The image spurred thousands of comments, most of which which are critical:
At least one reader defended the party, if not the post:
Republican Party Chairman Keith Downey tried to skirt this issue by blaming it on the Democrats. He tweeted, "Slavery is morally reprehensible as was Democrat support at the time, but this is the WRONG way to make the point."
The party quickly issued an official condemnation of its own post:"The Chisago County Republican Party is very sorry that something so clearly improper (either intended or in poor taste) ever made it to our page. Postings like this are not representative of our party. We are a party that believes in Freedom for all Americans regardless of race or religion. It is after all where the Republican Party came from in its origins, the anti-slavery movement."
Based on the comments on the apology, the Chisago County Republican party won't be forgiven any time soon.
The only person out there who seems not to be condemning the image is Minnesota Republican Party Secretary Chris Fields. He stated that there is "absolutely nothing offensive about that (Facebook) post."  He also said, "I'm not going to condemn that posting."