McDonald's Bagged Coffee Will Be a Colossal Failure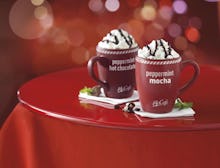 Fans of McCafe, McDonald's brand of coffee, will soon be able to brew it in their own homes.
McDonald's announced on Wednesday that starting next year, they will experiment with selling its ground and whole bean coffee in supermarkets and commercial stores. Single-cup serving options will also be available.
The company already sells packaged coffee in some McDonald's restaurants in Canada. A 340-gram package (approximately 12 ounces) costs $7. The price for American retailers has not yet been disclosed, nor have the trial locations.
Kraft Foods will partner with McDonald's for the release. Kraft will focus on the distribution and marketing of the product. Kraft Foods CEO Tony Vernon said, "We want to work with McDonald's to help consumers enjoy McCafe premium coffee in the comfort and convenience of their own homes."
Seriously though, who will actually buy this product? There are several brands of home-brew and instant coffee already available, including several from brands that specialize in coffee. Will McDonald's, which specializes in burgers and fries, be able to penetrate the market? Next year's tests next will tell, but it doesn't seem likely.