5 Beautiful Films That Finally Give Middle Eastern Women the Voice They Deserve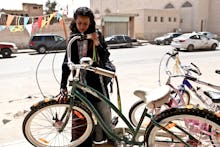 The 86th Annual Academy Awards could be a milestone for Middle Eastern cinema. The region has put out some incredible films recently, many of which have garnered international attention. Saudi Arabia has entered its first film ever for Oscar consideration: Wadjda. The directorial debut of Haifaa al-Mansour tells the story of a young girl named Wadjda who desperately wants a bicycle, but can't because traditionally bike riding is a boys-only activity. The feisty, upbeat Wadjda is not so easily deterred and quickly looks for an alternative way to get the green bike she's longing for.
A simple, sweet, and beautifully shot film, Wadjda has been applauded worldwide and has taken home numerous film festival prizes. While accessible and enjoyable, the film also sheds light on the often shrouded lives of Saudi Arabian women. But more than that, Wadjda complicates and contradicts the images and ideas most people hold onto regarding the Middle East and the women who are living — and creating — in the region.
Al-Mansour's success this past year, however, signals that women in Middle Eastern cinema are getting their footing and are receiving the recognition they have worked hard to earn. Women aren't new to film in the region — Algerian Assia Djebar used film and literature in the 1970s to discuss sexuality and politics, and Moufida Tlatli paved the way for Tunisian women in film after 1994's The Silence of the Palace — but it isn't until now that they've found such force and following in their works. Film has been an access point for women to discuss the issues, struggles, and everyday concerns they face.
The experiences of women from Turkey through the Middle East and North Africa — even into Pakistan — all vary and are informed by their cultures, societal norms, governments, family systems, and nations. Yet that doesn't mean that these stories that can't resonate with people elsewhere. Rather, their power lies in how relatable such stories are. These films — films like Wadjda — are, at their core, about human experience. They're about love, hope, and grief; they are about obstacles and overcoming them, and they are about conflicts and resolutions. Here are some of the best, recent Middle Eastern films.
1. 'Circumstance' (2011)
Iranian-American director Maryam Keshavarz set out to complicate stereotypes of the secretive, and often-vilified Iran in this film about a teenage lesbian couple traversing the underworld of Tehran. Only a few minutes into the film, you're following the protagonists into a nondescript flat where they drop their head coverings and modest clothing for much tighter, much edgier, much sexier dress. The characters drink, experiment and rebel against the laws and customs that separate their private and public lives. 
2. 'The Patience Stone' (2012)
Submitted by Afghanistan for the 85th Academy Awards for Best Foreign Language Film (it was not nominated), The Patience Stone quietly interweaves a story of love with tales of war, violence, sexuality, and marriage. It is not directed by a woman, but it is a brilliant look at the secret lives many Arab women lead. After a woman's husband falls into a coma, she begins spilling her secrets to him as she bathes and cares for him. A stunning drama, based on the novel by Afghan writer and director Atiq Rahimi, The Patience Stone enters into a private world of women very different from what many people may know. 
3. 'Where Do We Go Now?' (2011)
Met with mixed-reviews, this Lebanese comedy-drama, directed by and starring Nadine Labaki, tells the story of an unnamed Middle Eastern village where Christians and Muslims live in relative peace — a church and mosque literally sit next door to one another — until a series of mishaps set the men of the village at odds. Not wanting to see their peaceful town divided, the women in the village work together to try and amend the situation and keep growing civil strife from creeping in. Compared to the Greek comedy Lysistrata by the New York Times, it's a film that relies on gender play and humor to carry it along, and its message of peace may seem heavy-handed at moments, but it's nonetheless a well-made, entertaining film by a woman for women. 
4. 'When I Saw You' (2012)
Palestinian director Annemarie Jacir doesn't make easy-to-digest films. She does make complicated, thought-provoking, and uncomfortable movies that ruminate on issues of war, peace, ownership, and identity. Her 2012 film, When I Saw You, which was the official Palestinian submission for the 85th Academy Awards (although it did not make the shortlist), is set in a Palestinian refugee camp in Jordan in 1967, the year of the infamous Six-Day War. The story follows a young boy, Tarek, who meets a group of fedayeen, or freedom fighters, and quickly joins in on their training activities. Less overtly-political than her previous film, Salt of this Sea, When I Saw You humanizes an incredibly polarizing political issue that can often feel far-off to many people. 
5. 'Wajma, An Afghan Love Story' (2013)
An official Sundance Selection, Wajma blends documentary style filmmaking and fictional narrative to tell the story of a woman who becomes pregnant out of wedlock in a society that condemns such behavior. A subtle and morose film, Wajma explores the contradictory world of modern Kabul as the characters look for a way to preserve their family's honor and protect Wajma's future. Most often, Americans tend to envision Afghanistan as a dusty, dry, and deeply impoverished nation where women wear burkas and are hidden away from the rest of the community. Wajma shows us a different side of the country as Kabul negotiates the balance between keeping traditions and modernizing the city. Wajma is a deeply reflective film that cuts to the core of its moral questioning.