Rob Ford Crack Video Found By Toronto Cops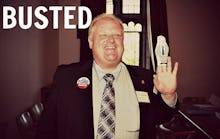 Remember that video of Toronto Mayor Rob Ford smoking crack that Gawker tried to pay $200,000 for? While Gawker failed to get it, apparently the Toronto police did.
Police Chief Bill Blair said on Thursday the department was "disappointed" (to put it mildly) after viewing the video, and that it would come out in court. However, he stressed that no charges related to the video would be pressed by Toronto authorities.
Chief Blair adds that the video in their possession "depicts images consistent with those previously reported in the press."
Ford was recorded smoking crack by a group of Somali-American gun and drug dealers earlier this year, after which one of them, Mohamed Siad, attempted to sell the recording to Gawker reporter John Cook for a cool $200k. The controversy went viral. Siad was later arrested on gun and drug charges and was non-lethally stabbed in jail.
So, there you have it: Rob Ford is officially the kind of guy who lets himself be videotaped smoking crack with a bunch of drug dealers (twp of whom were later shot in a gangland hit) while calling his political opponent a "fag." He was also kicked out of a Toronto Leafs game for being too drunk ... and a military ball ... and might have grabbed his mayoral rival's ass and suggested they have sex under the influence of cocaine.
This is a photo of Toronto Mayor Rob Ford:
Also, this is what happens when he plays football:
Keep on rocking, Mayor Ford. Hope you're having a spooky Halloween!