Obama Approval Rating: Very Low — But He Still Beats the GOP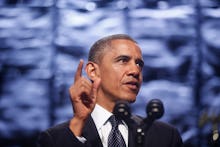 According to a recent NBC/WSJ poll, President Obama's approval ratings have fallen to the lowest point in his presidency. Only 42% of Americans approve of his job performance, compared to 51% who disapprove. This new low follows what has already been a pretty turbulent October in the world of American political statistics. The same poll revealed Americans' sentiments towards the Republican Party have reached a record low as well, as only 22% of respondents reported having favorable feelings towards the GOP.
Before this week's poll, Obama's approval rating was just two points higher (44%), while his disapproval rating (51%) was identical. Those numbers are from the 2011 budget battles. While the low 2011 Obama numbers stemmed from the budget impasse and failed negotiations with Congress, pollsters don't attribute any single reason to Obama's low approval numbers. Instead, the pollsters argue that a range of issues including NSA disclosures to the botched HealthCare.gov rollout are contributing to the rating. Just look at Democrats, whose disapproval rating (40%) hasn't budged since the previous poll, while the president's has grown.
Fortunately for the president, American's long-term sentiments present a more mixed bag. While few believe that the economy will improve in the next 12 months (23%), when it comes to healthcare, only 31% believe the law faces long-term problems. If the president wants to compare himself to his predecessors, at this point in his presidency, George W. Bush's approval numbers were a bit worse (41% approval, 56% disapproval), and his low (25% approval, 71% disapproval) was much worse than Obama's thus far.
On the contrary, Bill Clinton wrapped up 1998, the second year of his second term, on a record high (73% -25%), although that had more to do with America's backlash against the impeachment proceedings than anything else. Clinton's low was a 37% approval rating, giving Obama's 42% some breathing room. Obama can always get himself impeached. While this would be bad for the country, it could boost his numbers.