YouTube Music Awards 2013: Inside YouTube's Music Industry Takeover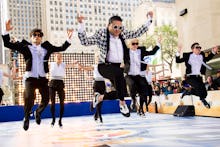 On Sunday, November 3, YouTube will stream the first ever YouTube Music Awards live from New York City. The internet video company will also showcase pre-recorded performances taped across the world in Rio de Janeiro and London as well as live performances from Lady Gaga, Eminem, and Arcade Fire. The awards, which are organized in six categories like Record of the Year and Response of the Year, will be determined by viewers' votes. The show will be hosted by American musician and actor Jason Schwartzman.
The ceremony is meant to symbolize yet another milestone in the changing environment of content delivery, to promote YouTube as an "influential outlet for new music" and potentially as "the world's go-to music destination." It has been a massive year for YouTube with especially viral videos like "Harlem Shake" and "Gangnam Style" — the first ever to gain over a billion views. However, the awards shows are meant not only to celebrate great videos from the past year, but also to support Google, YouTube's parent company, as it strives to break into the TV and music industries through its own music-video streaming service. Already the world's largest video streaming website, the YouTube Awards will draw an incredible audience and there is no better time for such an announcement to be made.
As early as March, there were rumors that YouTube would be launching its own subscription streaming service, but it was not till October that details started to surface. The service, according to reports, will be available at the end of this year or early in the next, and will cost $10 a month. It's meant to rival Spotify and Pandora. Although YouTube will still retain a free version, the premium service would be ad-free and would allow subscribers to play and to listen to music videos even when there is little or no internet connectivity available.
The streaming service would be entering a fiercely competitive market that is already littered with established services, but Google's larger global reach and extensive access to billions of videos on YouTube may push the service slightly ahead of the pack.
A streaming service would be revolutionary for consumers as it would allow us to enjoy audio-visual entertainment available on YouTube offline without advertisements, but the benefits would extend to the industry as well. Record labels stand to boost their revenues with a steady, reliable stream of income from subscriptions that would be more reliable than bursts of payments from songs.
You might wonder whether anyone would pay for watching videos on YouTube when it's already free. Music downloads have, for the better part of a decade, been soaring as the internet became more integrated and more mobile. However, this year, it seems as if this trend is ending, due in part to music streaming services, such as Spotify and Pandora. To create a customizable service that is free of charge is highly attractable to consumers who are simply losing interest and see no point in paying for songs when they could be legal and free. Of Spotify's 24 billion users, however, 25% are paying subscribers — a sign that there is still a small group of people who are willing to pay for music with added benefits.
With the introduction of a streaming service from YouTube, Spotify, Pandora, and even iTunes Radio will see a decline in their user bases. Of course, not everybody wants to watch movies all of the time when they are on the move, yet it does provide solace and a greater level of entertainment to have access to legal music wherever we go. Music-only streaming services may not disappear in the long run; rather they may co-exist with services that provide music and video. However, it may be the combination of available videos and the reach and influence of YouTube that will see it dominate the sector: YouTube has over a billion people view its videos every month. Spotify and Pandora have a combined 96 million listeners total.
When YouTube releases its streaming service, two things may happen. One, it could be over-hyped and will very slowly catch up to the success of Spotify and Pandora. Or it could burst out of the gates and never look back: making music-only subscription services a thing of the past. Either way, its free version will still remain the determining force in YouTube's success. Streaming services, such as YouTube's, that provide both music and videos offline may be our future, as their models are more sustainable in the long term. To offer the ability for consumers to listen and to view media offline and to provide a life-line for record labels that have been affected by the dominance of digital downloads over physical sales in recent years is the model that all future services should adopt to survive.