Chinatown Isn't For Chinese People Anymore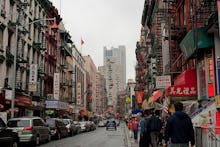 New York City's Chinatown is a neighborhood on the verge of losing its identity.
Like its sister neighborhood in Washington D.C., New York's Chinatown has become a playground for business owners and new immigrants who are intent on exploiting the neighborhood for profit.
I grew up knowing the old Chinatown — one that blended the Southern Chinese and American experience. Residents would communicate in one of two dialects: Taishanese and Cantonese. Dim-sum spots south of Canal Street were home to family gatherings. Street vendors would yell at passersby in an effort to sell vegetables and seafood. Store signs were written in incomprehensible English. Traces of this old-school neighborhood still exist, but a new and less authentic Chinatown has emerged in New York to the disdain of some members of the Chinese community.
"I definitely like the old Chinatown more, due to nostalgia and the old school blue collar vibes," said Sherman Ng, whose father has operated a small Chinese shop on Mott Street for decades. "But I feel, as Chinese Americans, we aren't investing enough back into the community. Many new college grads opt to live in other areas, so we are also contributing to the destruction of Chinese culture just as much as the non-Chinese are."
He's right.
A rapid commercialization in the past two decades has destroyed Chinatown's landscape. As a child, I used to marvel at the Music Palace, a rare Chinese-language movie theater on the corner of Hester Street and Bowery. It was considered a place where Chinese immigrants could reconcile their old home with their new one and the only source of major entertainment they could exclusively enjoy.
A 19-story Wyndham Garden Chinatown hotel now sits on that legendary spot. The building boasts large, bluish windows and sleek gray tiled walls. Tucked behind it on Hester Street is a lot riddled with broken tree branches and garbage. Right next to the hotel on Bowery is the site of an old tenement that housed eight families. In 2009, the hotel's construction destabilized their building and displaced them. The Chinese hotel developer, who had bought the apartment two years before, failed to repair the damages in time, and the families were forced to settle elsewhere.
As hotels like the Wyndham Garden Chinatown and new housing units sprout like weeds and force out Chinatown's longtime residents, a slew of businesses is replacing those that had deep ties to the neighborhood.
When I was young, my parents would bring me to Yuen Yuen, a small Cantonese restaurant on Bayard Street. It was a hot spot for locals, who would order its popular freshly squeezed orange juice while talking loudly in their native dialects. When the restaurant announced last year that it would close after more than three decades of business, my father insisted that we have one last dinner there. To him and the rest of my family, Yuen Yuen was more than just a restaurant: It was a place that allowed us to reconnect with our roots.
Now, I shudder every time we walk past 61 Bayard Street. What once was a classic restaurant is now an unappealing Chinese herbal store that seems to draw more tourists than locals. "A lot of old-time merchants are discontinuing their businesses in Chinatown," my father said. "This will diminish the neighborhood's charm, not just to tourists but also Chinese Americans."
Chinatown's transformation has come so quickly that not every visitor can tell the difference between the new and the old. Hidden on Mosco Street, for example, is a fried dumpling eatery that attracts more tourists and fewer locals than the historic building next door, Church of the Transfiguration. The eatery's cooks speak Mandarin, not Cantonese, the neighborhood's main dialect. The cooks are part of a new wave of immigrants who represent a different culture: one that is centered on achieving the American Dream at the sake of losing our heritage.
The cultural shift has left some Cantonese-speaking people, like myself, worried that the Chinatown of the '80s, '90s and early 2000s will disappear within the next decade. Over the years, Mandarin has slowly replaced Cantonese as the popular dialect in Chinatown.  Modern Shanghainese cuisines are replacing traditional Cantonese ones. Mandarin-speaking vendors are gradually creeping onto Mott Street, the area's Cantonese hub, and selling the latest counterfeit goods.
Today's Chinatown is a victim of a trendy and upscale contagion that has plagued other ethnic neighborhoods throughout New York City, like Harlem and Bedford-Stuyvesant. Many residents blame gentrification. "Rich [Chinese] folks are moving out of the ghetto, and white people are moving back," Milton Tam, a longtime resident who lives on Confucius Plaza, explained.
But I am convinced that the change is also a product of the Chinese community's own doing.
New York's Chinatown is a reflection of modern China: a bustling place where one's desire to make it big triumphs his or her need to maintain his culture. In that way, Chinatown has become China's town.