Kendrick Johnson Murder Case Becomes Federal Investigation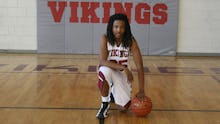 Federal prosecutors have opened an official investigation into the bizarre death of 17-year-old Kendrick Johnson in Valdosta, Ga. The tragic story began last January when Johnson's bloodied body was found rolled up in a mat in his high school's gym.
Though local officials determined the death to be a result of accidental suffocation, Johnson's parents were not convinced by the odd story. The did not believe that a 17-year-old would crawl into a gym mat to retrieve a shoe, stop breathing, and die.
Their doubts led the family to begin an independent investigation into the death. Upon their request, private investigators analyzed the authorities' handling of evidence. Uncertainties surrounding blood found on the boy encouraged the family to request another evaluation of Johnson's body.
In May, a judge agreed to exhume the body for a second autopsy performed by a private medical examiner. The bizarre results triggered more questions and drew the attention of the national media.
Upon opening the body, the private medical examiner discovered that Johnson's organs had been replaced with newspaper before the burial. In addition, Johnson's body showed unmistakable signs of blunt force trauma to the throat. The private investigator determined that Johnson's death resulted from an intentional blow to his neck.
Now, 10 months later, the family is getting the full official investigation they have been demanding. Upon reviewing the results, U.S. Attorney Michael Moore decided there is "sufficient basis" to examine the circumstances surrounding the death. "My objective is to discover the truth and I believe that can only be done by gathering all the evidence and relevant information surrounding Johnson's death," he said.
In addition, the family is looking into civil rights charges against the local authorities for failing to fully investigate the death of a young African-American boy. Johnson's family believes the paper found in his body is part of a cover-up that may implicate local authorities.