Jai Waetford is Pop Music's New Justin Bieber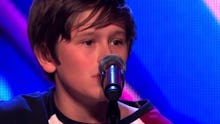 Boyish charm? Check. Side-swept bangs? Of course. Melodic voice? Yes. Looks like every 7th grade girl's dream guy? Yup. 
Every generation has a boyish pop icon: a talented singer with floppy hair that the industry will never take seriously but 12-year-old girls will sell their souls for. (Editor's note: the industry will eventually take them seriously if they Timberlake-it-up, shear those locks, and emerge from the chrysalis of young adulthood fully transformed into a pop demigod. Additional editor's note: it is merely coincidence that most pop icons are named Justin.)
Justin Bieber has held the pop throne since 2010 and as he haltingly inks and ages up, fans have tried to fit a few new boyish stars into his celebrity shoes. None of them quite fit. But a few got close, like Australia's Cody Simpson ...
but he looked so much like Pretty Little Liars' Keegan Allen that the tween world just wasn't big enough for the two of them. 
As of today it looks like the world's next teenage pop star has arrived, and even the real Justin Bieber agrees. 14-year-old Jai Waetford won third place in this year's Australian The X Factor and got a little popularity boost thanks to an Instagram endorsement by Bieber. 
Pop history is definitely repeating itself. Usher (then a teen icon) found Bieber on YouTube (care of the charming video below,) and now Bieber is endorsing Waetford via the world's tech medium du jour. 
Waetford has the looks, he has the charm, he is even Beatle-mania-ing the girls in the audience. The Bieber era might be coming to an end, but a new floppy-haired boy will be taking his place. And it could very well be Jai Waetford.