NYC Stop-and-Frisk Policy: Ruling Blocked By Appeals Court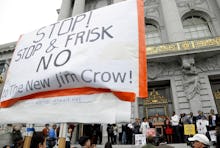 The 2nd Circuit Court of Appeals blocked an order requiring changes to the New York Police Department's stop-and-frisk program on Thursday, and a federal judge has been removed from the case. The court held that Judge Shira Scheindlin's ruling will not move forward until the outcome of the city's appeal has been decided.
In August, Scheindlin heard a challenge to the controversial stop-and-frisk policy. The litigants argued that the Police Department's implementation of the policy had violated the equal protection clause of the Fourteenth Amendment.
According to the New York Civil Liberties Union, the policy was primarily used to target black and Latino citizens. Scheindlin agreed that the discriminatory implementation of the program was unconstitutional as systemic racial bias conflicts with the Constitution's promise of "equal protection of the laws." To rectify the problem, Scheindlin ordered a number of changes including the addition of a monitor who would help the department fix the program and train officers.
The ruling was a win for civil rights activists who had long argued that the policy violated the Constitution. However, the police Department appealed the decision, which led to the circuit court staying the changes to the stop-and-frisk policy and removing the lower court judge. 
The appeals court said that Scheindlin needed to be removed from the case because she violated the code of conduct for federal judges. She had possibly compromised the case by failing to maintain a public appearance of impartiality. Scheindlin had given a number of media interviews and public statements responding to criticism of the court.