This A Capella Group Brilliantly Recapped Beyonce's Entire Career in One Song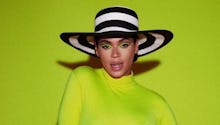 Pentatonix, the a cappella group that won The Sing-Off's third season in 2011, released a new video called "The Evolution of Beyoncé" over this weekend. The video does an amazing job of covering a lot of Beyoncé's greatest hits over her career. It starts out with the Destiny's Child song "Bills, Bills, Bills," and works its way artfully through the years until it finishes strong on "Halo."
The a cappella group features Kirstie Maldonaldo, Scott Hoying, Mitch Grassi, Kevin Olusola, and Avi Kaplan — all singers in their early 20s — who have been making music together since they auditioned for The Sing-Off (and, strangely enough, that audition was the first time they all sang together). They've gone on from winning that competition to putting their songs — both covers and originals — on Youtube, and eventually releasing a self-titled album and a Christmas album on iTunes. Recently they teamed up with Lindsey Stirling, a popular violinist who also does covers and medleys, to create a cover of the Imagine Dragons song "Radioactive."
A cappella as a genre has been gaining popularity lately, perhaps because of vocals-only competitions like The Sing-Off and mainstream media attention like the movie, Pitch Perfect or Glee, the popular TV show. Whatever the reason, Pentatonix has ridden the public's interest straight to the top with amazing medleys, covers, and original songs that they compose and arrange themselves.
Pentatonix's new album, PTX Vol. 2, goes live on November 5, and features covers of hits like "Can't Hold Us" and "I Need Your Love," as well as a medley. If you're a fan of "The Evolution of Beyoncé," you're sure to love the rest of the music they have to offer.