The Most Amazing Football Play This Season is Not Something You'll See on ESPN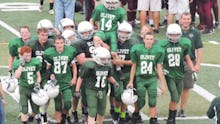 Between classes, they schemed and conspired. For weeks, the football players at Olivet Middle School in Olivet, Mich., secretly planned their remarkable play.
The play (which was two plays, actually) happened at a home game earlier this month. The first part of the team's plan was to get as close to the goal line as possible without scoring. The second part was to let Keith Orr, a kid on the team living with a learning disability, run past the goal line for his first ever touchdown.
Here's what happened.
When asked later about how he felt about his touchdown, Keith described it as "awesome."
"The coaches didn't know anything about it," Parker Smith, the quarterback, says. "We were, like, going behind their back."
"Everyone was in on it," says Nick Jungel, another boy on the team.
"Us kids knew, hey, we got this, this is our time, this is Keith's time," says Parker. "We thought it would be cool to do something for him."
"Because we really wanted to prove that he was part of our team and he meant a lot to us," adds Nick.
"Once I saw him go in, I was smiling to here," says Justice, a wide receiver, pointing to his cheeks. "Nothing could wipe that smile off my face."
They may just be a group of young kids, but the players on the Olivet Middle School football team embodied some of the best human traits — open-mindedness, creativity, and compassion — all in one simple football play. That may just make this touchdown drive one of the greatest of all time.