2 Million Syrian Children Have Been Forgotten — These Powerful Photos Tell Their Stories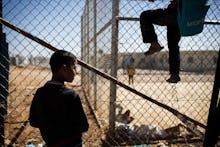 As the United States, Russia, and other global powers continue to debate the issues surrounding the Syrian conflict — including chemical weapons and the upcoming Geneva 2 peace conference — millions of Syrian children are succumbing to deadly diseases and losing years of schooling, counselling, and a sense of normality needed to get through the traumatic experiences they have lived through.
According to UNICEF and UNHCR, more than 2 million Syrian children have been directly affected by the conflict in Syria and have seen their schools destroyed, families ripped apart, innocent people killed, and experienced things no child should ever have to go through. Some of the most powerful images and stories from the Syrian conflict have come from the children who continue to live through it. This is the war as they see it:
1.
"With conflict, the most compelling images are often people in their most vulnerable state. They're bloody, they're dusty. Those photos are necessary and important to tell stories, but our subjects were not bloody and broken," says American photographer Robert Fogarty who worked on a project called "Dear World" with relief organization CARE International in which he photographed Syrians with messages written on their arms. "It's their photo, their message."
2.
Wounded by a bomb that hit just outside her home in Syria, 11-year-old Huda had to hide for hours after the attack and was only able to get to a hospital after two days. Her message, however, is clear: "I want the life I had back."
3.
According to the International Red Cross, almost 30% of Syrian refugees in Jordan live in camps such as Zaatari — the second largest refugee settlement in the world. The camp, however, is notoriously unsafe despite guards controlling the area at all times, making it feel like a prison. Like many refugee camps, sanitation and long lines for water are just a couple of the prevalent issues at Zaatari.
4.
The night before her family fled, 11-year-old Maryam (whose name has been changed to protect her identity) was hiding with her family at their home in Aleppo, hoping that the planes they heard overhead wouldn't target their house.
"My next-door neighbor's house got bombed and they all died. They had small children. I was thinking: why their house and not ours?" said Maryam. She is the oldest of seven brothers and sisters. The next day they crossed the border into Lebanon where they now live in a tent. Her dream is to one day become an Arabic teacher and to see "Syria beautiful again."
5.
"We didn't take anything. There was no time. On the road, I saw houses in rubble and burned-out cars. I saw massacres, people and children, killed without any reason," said 15-year-old Abdulmajid. "On the road I also saw a small body of a dead baby without a head. When we passed that, I had to close my eyes."
When Abdulmajid arrived in Lebanon with his parents and 9 siblings, he helped his father build a tent from wood and plastic. "I miss my house, my school and my nice clothes. And of course I miss my best friend Basel," he said. "I understand that we are here because it is safer but I miss my country, that's where I belong and I hope to go back very soon. When I grow up I want to help to rebuild Syria."
6.
When Sumaya Agha, a photography consultant with Mercy Corps, helped distribute toys to Syrian Jordan living in northern Jordan, she asked them: "What makes you happy?"
Eight-year-old Moaid said, "There is no war here."
7.
"[Nine-year-old] Briksam is shy with a sweetness that breaks my heart," wrote Agha. "She loves school so much that even studying for tests is one of her favorite things to do, but her family cannot find a school to enroll her."
8.
When asked what made her happy, 7-year-old Noor from Aleppo, Syria said, "Going to school, because I can escape my siblings."
According to Francine Uenuma, director of media relations and communication for the aid group Save the Children, an estimated 6% of children in the city of Aleppo currently attend school.
9.
"I don't have any toys or games that I can play with anymore," this 12-year-old boy told UNICEF. "I lost all of them when the house was destroyed. We were in the house when the mortar hit. It was so scary. The walls came down, and everything was destroyed, but God saved us."
10.
Ahmed collapsed in tears at his the funeral for his father, who was killed by a sniper's bullet in Syria.
11.
Nine-year-old Horrieh used to live in a suburb of Damascus where she enjoyed English, art, and playing catch with other children. She now lives with her brother and extended family in an abandoned prison in the Bekaa Valley in Lebanon. Her father was arrested last year and she hasn't seen him since.
"I miss him very much," said Horrieh, wringing her hands as she speaks, a common habit for many traumatized children. When journalist Benedict Brogan showed her a photo of his own nine-year-old daughter on his phone, Horrieh said quietly, "God bless her."