Mindy Kaling's 'Jimmy Kimmel' Appearance is Charming and Filled With Secrets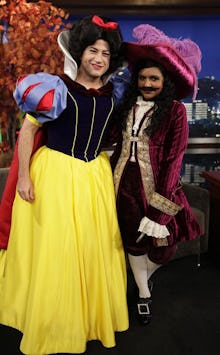 ABC/Randy Holmes Mindy Kaling gave a behind-the-scenes look at work life on The Mindy Project, the FOX series for which she writes, produces, and stars, on Jimmy Kimmel Live Thursday night. She also dressed as Captain Hook.
The 34-year-old actress, whose first major project was writing and acting in NBC's hit show, The Office, showed up in a Captain Hook costume to celebrate Halloween.
She scolded Kimmel, who was dressed as Snow White, for misleading her costume decision.
"What the hell?! I thought we were going as Disney villains. That's the memo I got," she quipped.
She told the late night host that she would have preferred donning a Disney princess costume, especially Jasmine.
"I would have loved to bare my midriff in a sexy costume."
Kaling and Kimmel soon got down to business and discussed her life on The Mindy Project, where Kaling is both the boss and the star.
"It's so much fun to be the boss," Kaling said with a laugh. "It's fantastic. It's great because I like the final say."
She also had a great sound bite about her team's recent trip to Las Vegas.
"The problem is — my writing staff — they're great guys, but we're a bunch of nerds," she admitted. "I thought it was this giant rager because we went to see Michael Jackson and went to sleep at 11."
Kaling also revealed her fear of poisoned food. Apparently fellow producer, writer and actor Linwood Boomer told Kaling that if people don't like her show or her character's lifestyle, something might happen to her food.
"What if they're, like, religious fundamentalists and they're like, 'That girl goes on too many dates and she's not married!'" Kaling hypothesized. That's why, when she orders food, she does so under the name "Peggy."
Kimmel's take?
"You know, Linwood is a known paranoid. That's not advice you have to go by … And on the other hand, what if they love you and they want to give you a little snack? You're missing out on a lot of extra pudding."
The Mindy Project airs Tuesdays on FOX.