Project Run Away: Heidi Klum's Costume is Terrifying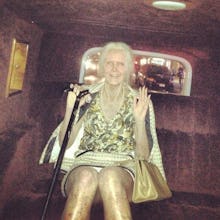 For many, Halloween offers the chance for people to tap into their younger side. This year, though, Heidi Klum decided to go in a different direction. 
After building up anticipation by releasing photos of her getting ready for her 14th annual Svedka-sponsored Halloween bash, the Project Runway host unveiled her 2013 Halloween costume last night on Twitter. 
The 40-year-old became a wrinkled old lady, complete with with age spots, crows feet, and even raised varicose veins in her legs thanks to an Oscar-winning makeup team. 
Klum has made her elaborate Halloween costumes something of a personal trademark. In years past, she has transformed into Cleopatra, an alien robot, and even an ape in 2011 with her then-husband Seal. 
Speaking to Parade earlier this month, Klum said that she'd "rather stay home than go out in an uninspired Halloween costume." Although she is not shy about building up anticipation for her stunning ensembles, she said, "It's definitely not a last-minute decision. It takes months of preparation."