Inside the Secret Underground Tunnels Used to Smuggle Drugs Into the U.S.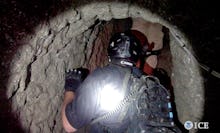 Bringing drugs from Mexico to the U.S. is much more sophisticated than you might think.
On Thursday, narcotics officials in San Diego, Calif. discovered an underground tunnel used for smuggling drugs into the U.S. The tunnel starts in Tijuana, Mexico and snakes underground into San Diego, Calif. Given its size  and the evidence discovered at the scene, it ferries in massive amounts of cocaine and marijuana.
You would be amazed at the complexity of the underground network — the tunnel is equipped with oxygen ventilation, lighting, and an electric rail system to move heavy shipments of drugs under the border. The full tunnel zig-zags the length of almost six football fields, connecting Tijuana warehouses to San Diego's Otay Mesa industrial park. The four-by-three-foot maze runs 35 feet underground. A tunnel of this scale would have taken months if not years to complete.
This tunnel is the eighth major underground drug corridor discovered in San Diego since 2006, and the first one found used for smuggling in cocaine, according to officials. 
Tunnels like this one are used extensively by the various Mexican cartels to bring gargantuan quantities of drugs to the U.S. market. In San Diego, Mexico's Sinaloa cartel has a hold on the market.
These labyrinthine underground systems are concentrated by the Mexico-Arizona and Mexico-California borders, but San Diego is a popular place to dig because the soil is softer. The discovery of tunnels like this one is celebrated because they are hard to find, and are therefore effective ways for agents to dodge border and drug enforcement officials.
According to records, authorities seized 327 pounds of cocaine and 8.5 tons of marijuana at the scene. Three men were also arrested at the site and charged with felony possession of marijuana and cocaine with intent to distribute.