College Student's Halloween Costume Brought "Sexy" to a Whole New Level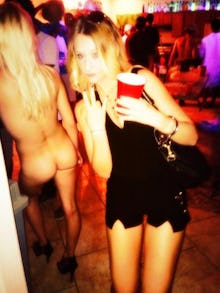 Editor's Note: Not Safe For Work
Every year, the internet seems to ignite with the same debate: is Halloween becoming too risqué? However, one Arizona State University (ASU) student has blown all the other sexy nurses and slutty witches out of the water with her ensemble — or lack thereof. 
That's right. In perhaps the most brilliant "last minute" idea ever, one ASU student decided to bypass the costume conundrum by going out completely naked.
She has since become known as the "ASU naked girl," and became an internet sensation after her photo was posted on the the "ASU confessions" Twitter page. In typical ASU fashion,  the naked girl seems to have spawned at least one copycat. 
ASU students seem to be proud of the attention that the naked girl has garnered for their university. After coming in ninth place in the last edition of Playboy's "Top Party Schools" ranking, ASU students are no doubt eyeing the podium for 2014.