Finally, the Snack Chocolate Lovers and Potato Chip Fans Have Been Waiting For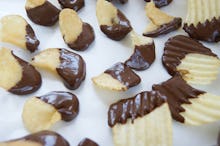 On Thursday afternoon, USA Today revealed that one brilliant company plans to bring two of the world's most beautiful foods — potato chips and chocolate — together in one glorious snack. Lay's announced its intentions to sell the small, mass-produced packages of chocolate-covered-potato-chip goodness in Target stores around the nation.
Truth be told, I've been waiting for this, the day when I can eat chocolate-covered potato chips in virtually any state, my entire life.
This is not a novel creation. Produced by smaller chocolatiers, chocolate-covered potato chips have been around for decades. However, the delicacy has largely been confined to the Midwest. What makes the Lay's announcement so exciting is that these snacks will now be readily available around the nation. Anywhere there's a Target, there will be these morsels of salty-sweet perfection. (Sorry Vermont; apparently, the chocolate gods don't want you to partake.)
At the moment, Lay's only intends to sell the product until New Year's. However, if the rollout is a success, it may become permanent. Even more exciting, there may be new flavor combinations in the future. According to Ram Krishnan, vice president of marketing at Frito-Lay, they may go on to try other combinations, including "dark chocolate, white chocolate and even peppermint."
If peppermint-covered potato chips are part of the future, count me in.