Walmart Will Actually Profit Off Food Stamp Cuts Nation-Wide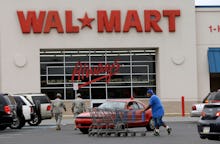 Walmart and the Supplemental Nutritional Assistance Program (SNAP), more commonly known as the food stamp program, go together like peanut butter and jelly. About 18% of all food stamp money is spent at Walmart. In addition, Walmart employees are the largest recipients of food stamp benefits in multiple states. With the expiration of the temporary increase in food stamp benefits, what will be Walmart's role in the food stamp debate?
Food stamp spending seems to benefit a specific niche of retailers: namely, discount grocery stores, dollar stores, and gas stations. Walmart and many other large food corporations have lobbied in support of food stamps. Despite this, Walmart doesn't seem worried about the cut in food stamp benefits, claiming that their sales may actually go up. Bill Simon, the CEO of Walmart's U.S. stores, explained: "I would say we're cautious but modestly optimistic... When the [food stamp] benefits expanded, our market share actually went down." Simon claims this phenomenon is explained by the fact that the reduction in food stamp benefits would cause people to seek lower prices, which Walmart claims to offer.
Walmart can benefit from both sides of the coin in the current setup. The company can come out on top by increasing profits as food stamp benefits decrease, while at the same time keeping wages low due to the existence of federal programs like food stamps and Medicaid that help meet employees' basic needs. A 2004 study by UC Berkeley's Institute for Industrial Relations found that, in California, the average Walmart employee required over $500 more in total public assistance than workers from comparable large retailers. Families of Walmart workers required 40% more health care assistance and 38% more in other kinds of public assistance (like food stamps, subsidized housing, and school lunches) than comparable families of large retail workers.
In addition, a 2006 report by the Philadelphia Inquirer found that Walmart had the highest percentage of employees enrolled in Medicaid in the state; one in every six of Walmart's 48,000 Pennsylvania employees was enrolled. Finally, in January of 2012, the Ohio Department of Job and Family Services found that Walmart employees and families were the top recipients of Medicaid, food stamps, and cash assistance in the state.
Supporters of Walmart claim these accusations ignore the fact that it is the number one private employer in the country, that it creates jobs, that it employs some "unemployable" people, and that it pays fair wages based on retail industry standards. Some Walmart officials have even supported a raise in the federal minimum wage. In any case, the future of Walmart and of public assistance programs like food stamps seem to be inexorably linked.