Pope Francis's Plan to Survey the Catholic Church Could Backfire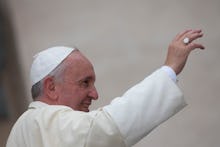 The Vatican is conducting a global survey on how local clergymen are dealing with Church-sensitive issues. They are seeking the input of every national conference of bishops worldwide in preparation for a major Vatican meeting to be held next year.
Besides gathering information, it is unclear what the pope is hoping to achieve with this poll, which asks local parishes about how they deal with divisive issues like abortion, gay rights, and divorce. This action once again demonstrates the pope's efforts to branch out and reform the Church's image.
Ever since his inauguration in March 2013, the "Cold Call Pope" has been challenging the Catholic Church's more conservative traditions. He notoriously opted out of the opulent 12-bedroom suite usually occupied by the pope, preferring instead the Vatican guesthouse. He has been personally calling people out of nowhere to give them the papal blessing, hence his nickname.
He has advocated for the environment, and has preached for greater tolerance for all. He has 3 million followers on Twitter. Last week, he suspended a German bishop following public outrage over the bishop's lavish spending, which includes spending millions of dollars on his private residence. And just this weekend, he continued his speech undisturbed as a little boy visited his papal throne.
In many ways, Francis's progressive actions and beliefs can only be applauded. His message of respect and tolerance marks a fresh start for the Catholic Church. However, it remains unclear whether the Church will go so far as to change its stance on the divisive issues of abortion and same-sex marriage. In those areas, Francis has been cautious. He has advocated for greater acceptance and open-mindedness without seriously challenging the Church's traditional positions.
It is dubious whether answers of local parishes will align with the pope's own views, and it is unlikely that they inspire any reforms in the immediate future. At the very least, by conducting such a wide-reaching survey, the Vatican is showing a willingness to reach out and give a stronger voice to local communities. By addressing these difficult issues while upholding his promise to decentralize a Vatican-dominated Church in the process, Francis is telling us one thing: He means business.