'Saturday Night Live' Recap: Kerry Washington's 5 Best Sketches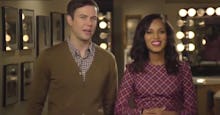 Kerry Washington is gorgeous. She easily brings grace and humor to a wide variety of characters. But every season of any show has its ups and downs and, unfortunately, this episode was a dud. I had high hopes, but the sketches in large part just fell flat. Perhaps because — as was acknowledged in the half baked apology that passed for a cold open — the cast has been without a black woman for quite some time, the writing staff is a little out of practice writing for them.
Nonetheless, even when racing to roll deformed pumpkins up a hill, there will be winners and there will be losers. Here are the 5 best sketches of the night:
1. Miss Universe
This sketch had some funny moments and interesting ideas, but relied too heavily on girls from foreign countries being unfamiliar with due process and trite stereotypes of their home countries. Could have been more clever.
2. Cold Open
This one made the list for six Matthew McConaugheys and the acknowledgement, however feeble, of the recent lack of diversity in the cast. Oh, and because Kerry Washington pulled off a great Oprah. She should have been featured more prominently in this though, all things considered.
3. Date or Diss
This was a nice self-aware mockery of MTV reality-dating-type shows. There were some really funny lines from all of the girls, even though it was a little anti-climactic.
4. Ice Cream
Hahahahaha... What? 
5. How's He Doing?
I loved this. It had more of the Weekend Update voice than the sketches usually have, and it was clever and politically aware. Plus Kerry Washington looks smokin' in those goggles. Did you ever at any point this week wish you had voted for Mitt Romney?