Love Triangles Are Ruining Television's Strongest Women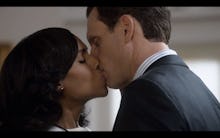 Relationship drama makes for compelling television. Fans wait years for their favorite couples to realize their mutual attraction and finally act on their impulses: Ross and Rachel in Friends, Carrie and Mr. Big in Sex and the City, or Mulder and Scully in The X-Files. These couples misread signals week after week and consistently fail to see what fans know from the beginning. It's a classic storyline, and one that's typically told specifically from a woman's point of view.
Famous television producer Joss Whedon recently lampooned the trend by proposing a hypothetical film based on the archetype — Choosing Boyfriends: The Movie. He's right; the plot is prevalent enough that titles may as well cut to the chase. But after producers have cleared so many cultural hurdles in television history, should a woman's choice of a life partner still drive her character's entire story line?
"Everything rests on what this girl will do, but she's completely passive or not really knowing what the hell is going on," Whedon explained in an interview with Entertainment Weekly magazine this past summer. The creator of Buffy the Vampire Slayer sees his titular character Buffy — the strong, intelligent, and independent woman — as embodying qualities absent from many female-led dramas in both film and television today (i.e. Twilight and CW's The Vampire Diaries). "The thing about Buffy for me is — on a show-by-show basis — are there female characters who are being empowered, who are driving the narrative?"
His question is particularly instructive when applied to two critically successful, female-led dramas on air today: ABC's Scandal and CBS' The Good Wife. Their audience skews older than Whedon's teen targets, but they both feature strong female characters in the leading role: Olivia Pope (Kerry Washington) on Scandal and Alicia Florrick (Julianna Margulies) on The Good Wife.
They are two very successful women working in male-dominated professions located in highly-politicized American cities. They demonstrate great intelligence and independence, personally and professionally. But enter their messy love triangles, and their "take no prisoners" attitude fades away.
On Scandal, Olivia and her associates (a.k.a. gladiators in suits) quash D.C.'s greatest scandals each week — covering up politicians' affairs, bringing home kidnap victims, and handling hostage situations. However, some cases present unforeseen consequences for two of Olivia's lovers in particular: the President of the United States and a rogue CIA agent originally sent to kill her (the woman loves a challenge).
Olivia met President Fitzgerald Grant while working as a consultant on his campaign. The two have carried on a torrid affair despite the obstacle of his position and the First Lady, Mellie (Bellamy Young). Even when Olivia's client's needs superseded her loyalty to the president, her threats against him dripped with sexual tension. Observe:
Courtesy ABC.
Pope: I'm going after the White House. Clearing Jeannine's name means going after the White House, after you.
Grant: I understand.
Pope: It's gonna give this story legs. It's gonna make it hard for you.
Grant: She's an innocent kid. Bring it.
Pope: I won't hold back.
Grant: You better not.
Someone bring me a glass of ice water.
Super spy Jake Ballard was sent simultaneously to watch over and kill Olivia, but he too became infatuated with the D.C. fixer. Jake presents Olivia with a more stable and morally-acceptable relationship, but she's still taking the president's phone calls while curled up in Jake's arms.
Courtesy ABC.
Olivia fights for everyone. She nearly confessed to her affair with Grant to save his presidency. She agreed to Sunday dinners with her nefarious father to save Jake from dying a brutal death. She makes sacrifices for her clients and associates. Her decisions for others drive the narrative, but for Olivia to truly be a strong female character, she needs to define her own story separate from Grant, Jake, her father, and any number of men in her life.
Over in the Windy City, The Good Wife's Alicia is dealing with her own troublesome triangle involving husband Peter Florrick (Chris Noth) and now former boss Will Gardner (Josh Charles). Will gave her a job as a first-year associate at his top Chicago law firm Lockhart & Gardner shortly after Peter disgraced the Florrick family with an extramarital affair. Alicia rose quickly through the firm, navigating high profile cases and making partner in less than five years. She also acted as a single mother for two teenagers while Peter spent time in jail.
Courtesy CBS.
Alicia overcame the reputation of a disgraced politician's wife (at the time of his affair, Peter was the State's Attorney) and earned the respect of her colleagues. But she risked losing it again by carrying on an affair with Will and remaining by Peter's side as he ran for Illinois State's Attorney and the governorship.
Writers Shonda Rhimes (Scandal) and Michelle and Robert King (The Good Wife) deserve a great amount of praise for bringing us these extraordinary female characters. Yet for all their compelling storytelling, they continuously fall back on this antiquated plot device. These women deserve far better narrative engines. They can only exchange lustful looks and playful banter for so long before the sexual tension grows stale.
Thankfully, The Good Wife took a tremendous step forward in putting Alicia back in the driver's seat both personally and professionally. "We ran the course on the love triangle," Robert King told TVLine. "The flip side of that is just as exciting." That excitement began in the October 27 episode, "Hitting the Fan," that not only imploded Will and Alicia's professional relationship, but also made any personal relationship between the two impossible for the foreseeable future. Alicia's calling the shots at her new firm, Florrick, Agos & Associates, and using her husband's position as the governor to her advantage. 
Scandal, still a young show, hasn't yet earned the right to throw all its characters into complete chaos. But for a show that's already rigged a national election, attempted to assassinate the president, and leaked government secrets, allowing the lead female character to have a plot independent of her choice of men wouldn't be such a stretch. I suspect many more shows could afford the risk.