NYC Mayor Race: Can de Blasio Make the City Affordable Again?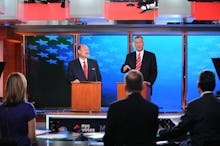 Bill de Blasio talks a big game. He believes a vote for him will turn New York City around, changing its course of massive income inequality. He is wrong. No amount of taxation and big government can change the bitter reality of income disparity in New York City. What can is education — and this is an area where de Blasio's plans are sure to disappoint.
Young people in the city are employed in low-wage jobs at a time when rental costs are rising, especially in formerly inexpensive boroughs like Brooklyn. In 2009, Business Week listed New York City as the third best city in America for college graduates. In the latest poll, NYC dropped by nine spots. The news doesn't really improve when pre-recession job rates are compared to recent numbers. Although unemployment rates have fallen the last few years, the current unemployment rate for college grads in New York City is 6.3%, still higher than the 5.7% rate in 2008. When you mix in the high (and escalating) cost of living, you can't blame college graduates if they feel their education may have been pointless after all. Twenty years ago, 87% of college graduates entered the workforce. Numbers from 2011 show that percentage is down 15 points. Statistically, people who pursue higher education get higher paying jobs than those without college degrees, but the Great Recession has led to a decrease in the number of people entering the workforce across all income levels.
Nothing de Blasio can say will change the fact that Americans are not educating themselves in degrees that bring the biggest paychecks. Simply put, young people are not searching for careers in the fields with jobs. If the income gap is ever to decrease, New Yorkers as well all Americans as a whole will need to seek out the education to qualify for the millions of available jobs in the country.
De Blasio could improve New Yorkers' future, for example, by properly attacking the failures of the public education system. In 2012, a smaller-than-expected drop in high school graduation rates gave optimism to the city, as the graduation rate was 65.5% in 2011 and 64.7% in 2012. However, if you believe a graduation rate in this range is a sign of improvement, you're wrong.
When kids don't graduate high school, they set themselves up for unemployment, poverty, and crime. Even if outgoing Mayor Bloomberg finds optimism in these numbers, another statistic should worry New Yorkers: Only 38.4% of high school graduates in NYC are college or career-ready.
At close to $24 billion, the city's public education expenditure counts for almost a third of the city's budget. De Blasio's education plan is a sweeping overhaul that will be paid for by the richest New Yorkers, who already pay some of the highest taxes in America. Instead of pumping more money into a failing system, de Blasio could allow charter schools to take on bigger responsibilities. Instead, his plan for charter schools could affect the education of thousands of poor kids who strive for a better future.
If elected mayor, for example, de Blasio will charge charter schools rent, which would add to these schools' expenditures and possibly result in the loss of programs or decreased enrollment. As reported by the New York Post, Executive Director of Public Prep Ian Rowe claims if the charter schools are charged rent, "Either we're closing or we're significantly reducing our academic programs — art, science, and music, which we think is crucial to a well-rounded education." Some charter schools get public money, but they mostly thrive off donations and parents' contributions, who dip into their own pockets to fund their children's education.
In 2010, thousands of Harlem parents flocked to charter schools hoping to win a lottery and get their children into a quality school. In one school, 97% of students reached or exceeded their grade level in math. Another school scored 100% on a state science exam.The quality of education in charter schools in some cases squashes the competing public school model. De Blasio's plan, however, could cost 16,000 children their place at charter schools. The Harlem Children's Zone model should be duplicated, not attacked.
The only way to decrease income disparity in New York is to prepare young children for success by getting them educated in careers that have good job prospects. Adding taxes and government to the mix will not eradicate the economic dysfunction.