ENDA: A Landmark Gay Rights Bill is Set to Pass — If Republicans Would Listen to Their Constituents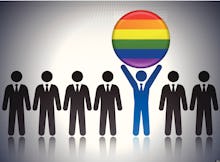 The Employment Non-Discrimination Act is up for a vote on Monday evening and will likely pass the Senate with the 60 votes needed to avoid a filibuster, according to the Huffington Post. As of last Thursday, 59 senators publicly support the bill, including unanimous support from the Democratic caucus. 
The bill, which aims to make it illegal to discriminate against LGBT individuals in the workplace, is being named the "first major piece of gay rights legislation since Congress repealed the ban on gays serving openly in the military in December 2010." However, this is will be the first time the Senate has seen this measure. A version of ENDA passed the House in 2007, but threats of a filibuster prevented it from being debated in the Senate.  The bill is expected to do much better this time around.
As of now, it is illegal for employers to discriminate against potential employees based on race, religion, age, gender, or disability. Popularity for this measure, which would add sexual orientation or gender identity to that list, has grown as 68% of Americans, including 56% of Republicans as shown by a poll by the Americans for Workplace Opportunity campaign.
But there still is a strong voice against the measure, that being the Heritage Foundation, who announced on their site last Friday, "Heritage Action opposes ENDA and will include it as a vote on our legislative scorecard." This means, as Zack Beauchamp explained for ThinkProgress, "any Republican who votes for ENDA would get a black mark on Heritage's influential legislative scorecard." Whether or not this political tactic will work is still unclear.
On the other side of the moral compass, a multimillion dollar lobbying effort is under way by the Human Rights Campaign (HRC) and the American Unity Fund, an advocacy group, which have been working to move Republicans closer to the middle of the road regarding homosexual rights. Media sites, such as Media Matters for America, have been trying to spread the word about the myths associated with the bill, including the myth that ENDA restricts religious free speech. 
Their report cited a post by Dr. Jillian T. Weiss, a professor of law and society at Ramapo College of New Jersey specializing in gender identity issues, who wrote, "ENDA cannot tell anyone what to believe, nor can employers. At the same time, gay employees have the right to live free from harassment on the job. In fact, it is now the law and has been since 1964 that people of all religions and walks of life have the right to be free from harassment on the job based on religion." So why is it that religious people can have protections against harassment from their employers, but those who identify as homosexual or transsexual cannot?
We will see how the Senate votes on Monday evening, but hopefully they will garner enough votes to stop it from filibustering. However, the next hurdle will be the House and as research conducted by Katherine Krimmel, Jeffrey Lax, and Justin Phillips has found, "constituent support for gay rights does not easily translate into votes for gay rights legislation in Congress, especially among Republican lawmakers." According to their report, white male Republicans, whose districts started out on anti-gay platforms and have since changed to a pro-gay stance, have a 4% chance of switching. 
Republican lawmakers need to start listening to what their constituents want, not what they believe is their party's national platform.