In a Historic First, National Gay History Museum Planned for D.C.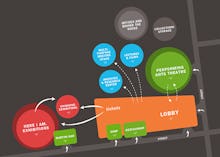 The Velvet Foundation, a nonprofit organization, has drafted plans to erect the first national LGBT museum in Washington, D.C.
The goal is to see the structure built and functioning within five years. The proposed museum would target a large audience and document a spectrum of LGBT identities and experiences. While this certainly isn't the first archival collection of LGBT history, it would be the first of this magnitude. The museum would be located in America's capitol — a place that would undoubtedly reach both national and international visitors.
Great strides are made every day by LGBT Americans: As of this year, 14 states have legalized same-sex marriage, and the Employment Non-Discrimination Act — legislation barring employers from discriminating based on sexual orientation — begins its first round of voting in Congress today. West Point even recently hosted its first wedding ceremony between two men. 
But the history goes back much, much further. Significant grassroots efforts have been made over centuries of progress in LGBT equality, and the proof is in the documentation. A national LGBT museum would not only showcase this information to the world, it would help further legitimize sexual orientations and gender identities that have long been persecuted, unrecognized, and discriminated against in this country.
In the past most of this work was done through local archives. In my home state, the Gay Ohio History Initiative (which works to "preserve, archive and curate the history and culture of the LGBT citizens of Ohio") displayed archival material regularly at Kent State University, where I was a student. In turn, the university opened an official LGBTQ center on campus to give visibility to the community and provide important information and resources to students and faculty. A full library resource called LGBT Life gives students the ability to easily search for materials regarding LGBT issues.
The great news is that my alma mater is not alone.
This October, our country observed LGBT History Month, National Coming Out Day, and, coincidentally, American Archives Month. Across the nation, people of our generation have the ability to enjoy and learn from important LGBT documents and artifacts. What a perfect time to marry these celebrations together by showing our support for a national LGBT museum.
We may have a long way to go in terms of universal equality, but our experiences and achievements deserve recognition. A national museum would give a voice not only to the generations of marginalized people before us, but to kids who will have the advantage of resources to learn more about their own identities and histories.
This would be a way to help LGBT youth live authentically, and to show the world that LGBT citizen saren't just recognized but celebrated in the United States. That's the definiton of pride.