Richie Incognito Suspended, Investigated For Possible Hate Crime Against Jonathan Martin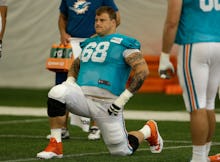 The incessant bullying of Miami Dolphins tackle Jonathan Martin became so unbearable that he left the team last week to seek mental help and spend time with his family. The resulting investigation into the alleged ring-leader, starting guard Richie Incognito, has led to his suspension and the NFL is now looking into the matter as a potential hate crime. 
Last week, a cafeteria prank caused Martin to exit the team facilities and go AWOL. When he was the last to approach a group of players eating at a table, they abruptly got up and moved. The joke put him over the edge. He "flipped out, smashed a food tray on the ground, [and] took off," according to FOX Sports' Jay Glazer (h/t SI.com).
Glazer added:
Martin, who joined the Dolphins in 2012 as a second-round draft pick, had been "plagued" by "persistent bullying and teasing from some teammates" since his arrival, according to Alex Marvez of FOX Sports. The 6'5", 312-pound tackle had been given the nickname "Big Weirdo," and the incident in the cafeteria "[W]asn't an abrupt action by Martin"; rather, "Martin has tried dealing with a slew of indignities that crossed into personal and family insults." 
The picture intensified over the weekend when it was alleged that Incognito had additionally been sending Martin text messages and leaving threatening voicemails. 
Early Sunday, the Dolphins refuted claims of bullying: "The notion of bullying is based on speculation and has not been presented to us as a concern from Jonathan or anyone else internally."
But by Sunday night, after the NFL and NFL Players Association became involved, Incognito had been suspended, and the team switched tones: "We believe in maintaining a culture of respect for one another, and as a result we believe this decision is in the best interest of the organization at this time."
Incognito intimidated Martin financially, too, according to ESPN: 
[O]ne of the significant allegations being reviewed is that Incognito got Martin to contribute $15,000 to help finance a trip to Las Vegas by some teammates last summer, even though Martin preferred not to travel with the group.Rather than go, Martin simply gave Incognito the $15,000, sources told ESPN, fearing the consequences if he did not hand over the money.
This isn't the first time Incognito has found himself in hot water. He was suspended for the 2004 season at Nebraska because of non-football incidents, and he was waived by the St. Louis Rams in 2009 after a verbal altercation with the coach. In a 2012 player poll by the Sporting News, he was even voted the second-dirtiest player in the NFL (per ESPN).
He sent a series of tweets on Sunday claiming false allegations by ESPN. He sent this aggressive response to reports from ESPN NFL analyst Adam Schefter:
This is the same player who, earlier this year, sat down with NFL.com for a story, "The NFL's Dirtiest Player Comes Clean," and said, "I'm definitely not a choir boy."
The article, which calls to mind Incognito's "decade of anger management issues and substance abuse," romantically paints him as a healed and changed man, portraying his new and improved temperament and character. 
Incognito can attempt to appear as peaceful as he wishes, but his laundry list of past problems, coupled with the current allegations, does not seem to bode well. It is ironic he would tweet this on Sunday:
We are likely to only learn more damning information as the case is investigated further and more of the harassment is brought to light this week.