Mohamed Morsi Trial Could Bring Justice to Egypt, But Only If His Accomplices Are Charged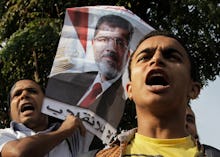 Monday morning, Egypt's ousted former President Mohamed Morsi stood trial at the same place his predecessor Hosni Mubarak did, and faced the same charges: the incitement of murder and violent acts against protesters.
Morsi's fellow defendants include members and leaders of his Muslim Brotherhood party, but unlike in Mubarak's trial, no security officials are charged with any wrongdoing. Perhaps this is because police and military chiefs from the Morsi administration are still in power today. Morsi has committed wrongdoing and deserves to stand trial, but it is unjust that his accomplices have not also been charged.
The main incident of violence for which Morsi is being put on trial is the violence that followed the December 2012 protests in front of the Itihadiya presidential palace. Anti-Morsi demonstrators took to the streets in opposition to a constitutional decree Morsi had issued which gave him powers beyond the mandate he was given by the Egyptian people.
These powers ranged from the ability to directly appoint the country's top prosecutor to complete authority over the judiciary (which prevented the constitutional court from dissolving the Islamist-dominated upper house of parliament, which was voted in by less than 7% of the electorate). Morsi also protected the Islamist-dominated and potentially illegal assembly tasked with drafting a new constitution from the same fate, thus ensuring he could push through his preferred constitution..
Between eight and 11 people died in the Dec. 4 protests, and hundreds were injured. The Muslim Brotherhood claimed that four of those killed were members of the party. There were widespread reports of Morsi supporters kidnapping and torturing opposition protesters, many of whom appeared on television bearing visible marks of torture.
What prosecutors are not showing in their case, however, is that the torture undertaken by Morsi supporters was overseen — and in some cases, protected — by the police force. No police officers or leaders are on trial with Morsi.
The minister of the interior at the time of the 2012 protests, Major General Ahmed Gamal El-Din (who was removed by Morsi in a cabinet reshuffle reportedly for "not doing enough" to help the Brotherhood against its opponents) now serves as national security adviser to interim President Adly Mansour. The man who succeeded him, Major General Mohamed Ibrahim, killed dozens of protesters in Port Said this February under Morsi, as well as hundreds of Morsi supporters in August after Morsi's ouster. He continues to serve as police chief.
Morsi is also being investigated for other crimes, namely spying for a foreign state (a euphemism for the Hamas-led government in Gaza), and involvement in the killing and abducting of policemen and soldiers. This charge is presumably related to Morsi's pardoning of several high profile Islamists involved in terrorism cases.
If Mohamed Morsi shared state secrets with foreign entities, then shouldn't the nation's intelligence chiefs also stand trial, or at lease be held accountable in some way? They either knew about the spying and let Morsi get away with it, making them "traitors" as well, or they did not, making them criminally negligent.
This would mean that the military intelligence chief at the time, Major General Abdel Fatah Al-Sisi, should also stand trial. Sisi was promoted to full general and made minister of defense and commander in chief of Egypt's armed forces in August 2012 — ironically, by Mohamed Morsi.
Sisi's promotion came after a group of soldiers were shot dead along the border between Sinai and Israel. Morsi used the incident to get rid of the military leader at the time, Field Marshal Hussein Tantawi, and replace him with Sisi.
So why isn't Sisi on trial? Because Sisi led the coup against Morsi and is now Egypt's de facto leader. He currently enjoys unprecedented levels of popularity not seen since the time of Gamal Abdel Nasser.
Morsi's trial will resume on Jan. 8. In a just world, police and military leaders would join him on the stand. It is undisputed that Mohamed Morsi should stand trial, but it is unfair that he should do so alone