4 Reasons You Should Move to London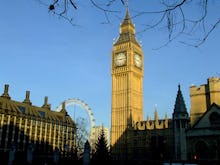 Given that so many people move to London every year, there has to be a number of benefits of moving to the English capitol. Indeed, there are many factors and reasons why people will leave their current homes and perhaps even families to live in London. It's not for everyone but there are lots of people who decide it is the place to be.
1. Employment Opportunities
London offers employment prospects for people at all ends of the employment spectrum. People that have great experience and are at the top of their profession will find that there are management roles with major global companies. There is also the fact that London is the home to so many businesses and people that there are lots of jobs at the lower end of the spectrum as well. No matter what level of employment a person is looking at, London will be offering jobs. 
2. You are at the Center of UK Life
If you are currently residing in a town or village where there is not a lot going on, London is going to seem like a world apart with so many different options available every single night. There are parts of London which are perfect for people with certain tastes. The West End is the ideal location for theater buffs and Camden is perfect for people that enjoy watching live bands. There are also areas like Shoreditch and Dalston that are perfect for people who enjoy art, so no matter what sort of entertainment you are keen to see in London, you will not struggle to find a place where you belong. 
3. It's a Main European Transport Hub
While London itself has so much to offer, it's also the place to be if you want to get somewhere else. With a number of major airport, train, and bus hubs, it's is the ideal destination for making your way around Europe. Also, London is also the major hub for all international flights so no matter where you want to go in the world, London is the place to leave from.
4. Stunning Sights, Architecture, and History
London has endless modern and historical architecture, museums, galleries, and even the picturesque Thames and many parks to enjoy. London estate agents can help to find your dream house for sale or to rent.